Gut Check's Week in Tweets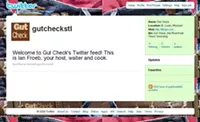 Don't you know? Gut Check has a Twitter account. You can follow us
@gutcheckstl
.

Here's some of what you missed on the Twitter feed this week:
Lady Gaga Wears Meat Dress at Video Music Awards http://bit.ly/9nBuyr #ladygaga #meat #blatantpanderingforpageviews
RT @stlhops: Schlafly Portfolio Changes Coming in 2011 - Some new beers and a couple that are disappearing. stlhops.com/schlafly-portf...
Sneaky or convenient? Starbucks drops "Tall" drinks from new drive-thru menus: http://bit.ly/9CZfBa (USA Today)
RT @EvanBenn: The Stable (@AmalgamatedBrew) hires veteran #stl chef Ben Welch to run its kitchen. http://bit.ly/9YwiGW
Organization Sues to Get Bluefin Tuna Endangered Species Protection http://bit.ly/ahni9M
Support Local Journalism.
Join the Riverfront Times Press Club

Local journalism is information. Information is power. And we believe everyone deserves access to accurate independent coverage of their community and state. Our readers helped us continue this coverage in 2020, and we are so grateful for the support.

Help us keep this coverage going in 2021. Whether it's a one-time acknowledgement of this article or an ongoing membership pledge, your support goes to local-based reporting from our small but mighty team.

Join the Riverfront Times Club for as little as $5 a month.