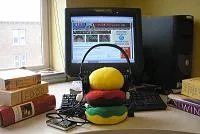 Gut Check dishes on our favorite St. Louis food blogs.
St. Louis Eats and Drinks: The Pollacks visited the re-opened Monarch.
A Veggie Venture: Alanna made Southern Farm Stand Stew with Okra, Tomatoes and Sweet Corn.
Andrew Mark Veety: Andrew discussed the Art of the Brine.
Cupcake Project: Stef posted a Cupcake Corer Giveaway.
Iron Stef: Stephanie made Walnut Ricotta Pesto.
Relish: George reported on the debut of Robust Catering.
One Hot Stove: Nupur made Roasted Tomato Chutney.
Off the Menu: Evan noted that a Clayton family's recipe is up for an Epicurious award.
Sauce: Ligaya reported that Second Street Bike Stop Cafe is now open in St. Charles.
Sounding My Barbaric Gulp: Kelly shared her Fall Cooking Class schedule.
STL Hops: Mike discussed the HandleBar's grand opening and beer list.