Gut Check's Week in Tweets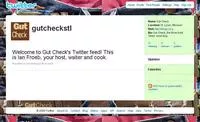 Don't you know? Gut Check has a Twitter account. You can follow us
@gutcheckstl
.

Here's some of what you missed on the Twitter feed this week:
13 Signs You Might Be a Foochebag http://bit.ly/aKJZmQ (with help from @amveats and @MilagroModMex)
NYT exhaustive look at controversy and the science behind BPA plastic: http://nyti.ms/9U6JHD
Feds Crack Down on Undocumented Kitchen Workers http://bit.ly/bUOpsw
This might be a clustercuss or a really brilliant idea. Or both. Eleven Madison Park's new menu: http://bit.ly/b4olzC
Science Groups and Food-Borne Illness Survivors Push for Legislation http://bit.ly/bNwo9n
Support Local Journalism.
Join the Riverfront Times Press Club

Local journalism is information. Information is power. And we believe everyone deserves access to accurate independent coverage of their community and state. Our readers helped us continue this coverage in 2020, and we are so grateful for the support.

Help us keep this coverage going in 2021. Whether it's a one-time acknowledgement of this article or an ongoing membership pledge, your support goes to local-based reporting from our small but mighty team.

Join the Riverfront Times Club for as little as $5 a month.