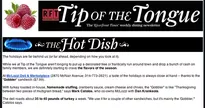 Sign up for Tip of the Tongue here.
Gut Check not providing enough dining tidbits for you?
Consider subscribing to Tip of the Tongue, the Riverfront Times' weekly e-mail dining newsletter.
This week, readers learn about a Goose Island Beer Dinner coming up at Newstead Tower Public House, as well as a Grain Brewing Demonstration at St. Louis Wine & Beermaking for those hoping to get a little more hands-on with their hops.
Subscribing is easy. Visit this page, enter your e-mail address and sign up for Tip of the Tongue as well as (if you wish) our weekly music and events newsletters.