Stores run out of items sometimes. It happens. Substitute a like item and everyone's happy, right?
Except perhaps shoppers who recently visited a Shiloh, Illinois, Target, hoping for Market Pantry brand zesty Asian boneless wings.
Here, have some plain ol' tilapia for your troubles!
How is this a reasonable substitution? Well, maybe reasonable in the sense that the tilapia might be less likely to cause intestinal distress.
Maybe this is Target's gentle, passive-aggressive way of saying that perhaps we should consider a nice piece of fish instead of sugary-glazed, fried, frozen chunks of indiscriminate poultry product.
Or maybe they're just not trying very hard. If it's the latter, expect to see these substitutions that don't quite hit the bull's eye...
8] With such a great markdown on Market Pantry Cheese-Filled Crackers, it's going to be hard to keep them in stock. Better find something equally full of cheese to appease. How about a copy of Voices of the '70s from the mix-CD kiosk? Nothing says cheddary goodness quite like "Time in a Bottle"!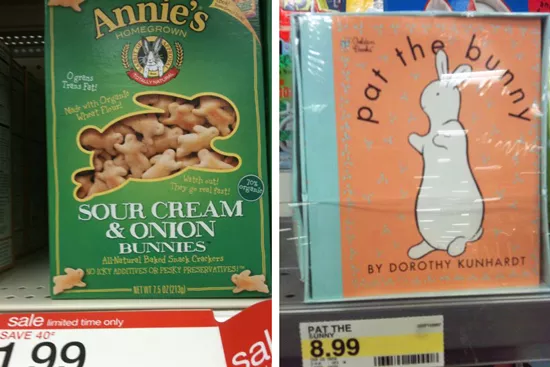 7] These Annie's Homegrown Sour Cream and Onion Bunnies are a steal at $1.99. But when they're gone, you might have to Pat the Bunny, not eat the bunny.
6] If you think the shoppers who got tilapia instead of fried Asian-flavored chicken chunks were pissed, what about the carnivore who requires a giant bag of $4.49 Market Pantry beef burgers but gets a box of Morningstar Farms Grillers instead? He's going to eat Spot the Target dog, that's what's going to happen.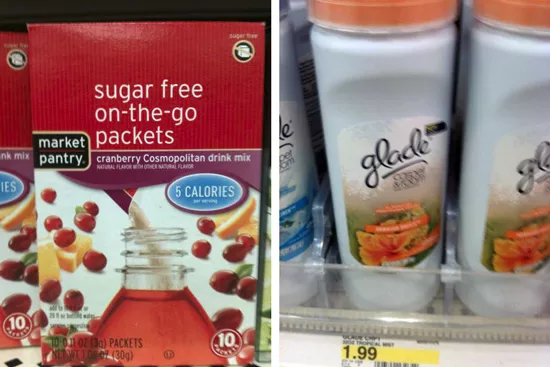 5] The name says it all: Market Pantry On-the-Go Packets in Cranberry Cosmopolitan flavor. Okay, it doesn't mention that it's powdered, but that's obvious. And if they run out? How about some Glade Carpet & Room deodorizer? It's powdered, too. Probably. And it's sugar-free. You'll have to settle for Tropical Mist flavor, though.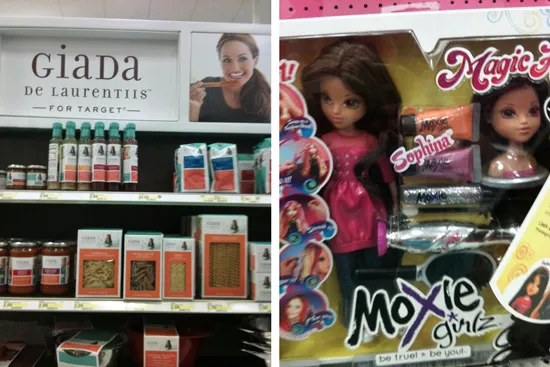 4] That Giada De Laurentiis for Target sure is a popular line, and likely to suffer the occasional barren shelf. Don't fret -- snuggle your sorrows away with a Giada look-alike Moxie Girlz doll. It even comes with an extra Giada-size noggin!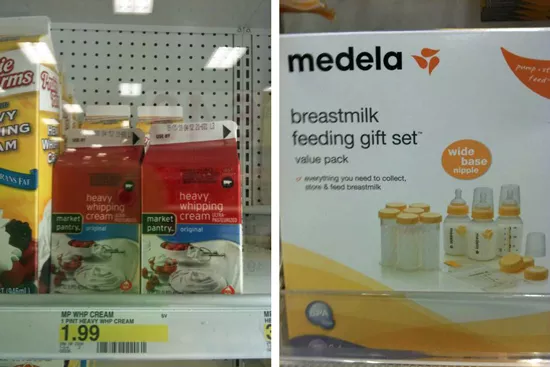 3] Is Market Pantry Heavy Whipping Cream made with milk from cows treated with hormones or antibiotics? With all the food safety concerns, some things aren't worth the risk -- especially when you can make your own! Target can help, with the Medela Breast Milk Feeding Set.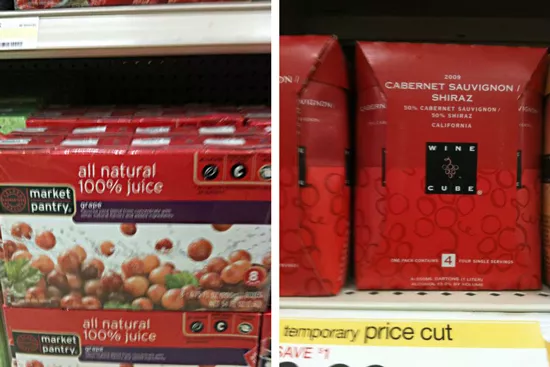 2] Kiddos don't like change, and they won't be happy if their Market Pantry All-Natural 100% grape juice box supply is depleted. Good thing select Target locations have their own specialty grape juice. Look for the Wine Cube 2009 Cabernet Sauvignon Shiraz. It's the juice box for parents who want to tune out the whining about the lack of juice boxes.
1] Choxie. It's Target's brand of "chocolate with moxy." But if they're out of Choxie Dark Chocolate Bars? Oh, come on. Some of these are obvious...