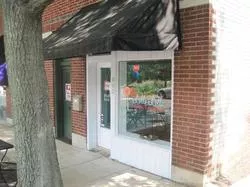 Oh Lolli Lolli, which opened in August.
This week, Gut Check was chock-full of local restaurant news. Ian posted a rundown of
August's restaurant openings and closings
, and we also reported on scheduled openings of
Lester's Tavern
and a new
Wasabi
location. Then we checked out the revamped menu at
Araka
. And that's just for starters!
What else did we do this week?



Discussed Dick Durbin and Monsanto.

Tried a glass of -- and then tried to pronounce -- Weihenstephaner Festbier.

Ramadan Diary logged in at Day 10 with a trip to the ballpark.

A Girl Walked into a Bar and met Tanner Scott of Double D Lounge.

Wondered Why We Watch Food Shows.

Chef's Choice chatted with Robin Murphy of Baileys' Chocolate Bar, Rooster and Bridge.
That's it for this week. Have a great weekend. Eat something good.