​This is the final installment of Robin Wheeler's Chef's Choice profile of Robin Murphy of Baileys' Chocolate Bar, Rooster and the Bridge Tap House & Wine Bar. Part one is available here; part two, a Q&A, is posted here.
Robin Murphy had already proven herself at Baileys' Chocolate Bar and Rooster when owner Dave Bailey asked her to create a menu for the Bridge Tap House & Wine Bar.
"All right, let's pair our food with what goes with beer," she said.
Her brainstorming led to a menu filled with easy noshables: cheese plates, nuts and homemade pretzels, along with a selection of comfort foods.
A fan of grazing, Murphy's loves these simple spiced pistachios. You can buy pre-seasoned nuts, but they don't pack the wallop of her handcrafted version.
"That's the key to my food - just very simple things, very approachable, but when you eat it, there's something different. That's just attention to detail and using good-quality ingredients."
They start with a peppery bite, tempered with the cool acidity of fresh lime juice and olive oil and the pistachios' butteriness. They can be made in large batches and they'll keep for several days -- if they last that long.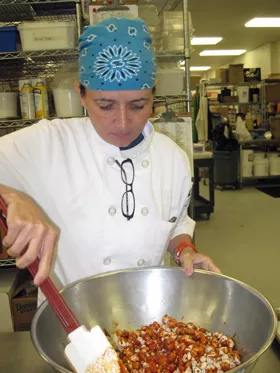 Spicy Pistachios 1/2 cup lime juice 5 tablespoons olive oil 1-1/2 tablespoons paprika 1/2 tablespoon cayenne pepper 1-1/2 tablespoons kosher salt 2-1/2 pounds pistachios (unshelled)
Preheat oven to 225 degrees. Line a full sheet pan or two cookie sheets with parchment. Set aside.
Combine everything but the pistachios in a large bowl.
Using a rubber spatula or wooden spoon, add pistachios and toss until well-coated.
Spread pistachios evenly onto the sheet pan and bake for 20 minutes. Remove pan, stir and return to oven for another 15 minutes.
To test for doneness, remove one pistachio, crack it open and see if it's dry under the shell. If so, remove pan from the oven and allow to cool. If not, recheck at five-minute intervals.
Store double-wrapped.
Baileys' Chocolate Bar 1915 Park Avenue; 314-241-8100
Rooster 1104 Locust Street; 314-241-8118
Bridge Tap House & Wine Bar 1004 Locust Street; 314-241-8141