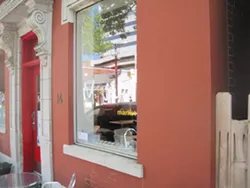 Ian Froeb
Mosiac Bistro Market
Mosaic Bistro Market
will open for dinner at 5 p.m. today at 14 North Central Avenue in Clayton, the location previously occupied by Benito's Gelato. I believe that this will be the first service for the latest restaurant from Claus Schmitz, owner of the original
Mosaic
downtown, but when I called to confirm that, I heard only a recorded message.
At any rate, Mosaic Bistro Market will serve breakfast (7-10 a.m.), lunch (11 a.m.-4 p.m.) and dinner (5-11 p.m.) Monday through Saturday.
You can view the
lunch
and
dinner
menus online (both links PDF). The dinner menu includes a fairly standard higher-end selection: scallops, poached lobster tail, dry-aged strip steak, lamb shank and (sigh) Chilean sea bass.