Gut Check's Week in Tweets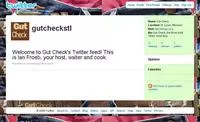 Don't you know? Gut Check has a Twitter account. You can follow us
@gutcheckstl
.

Here's some of what you missed on the Twitter feed this week:
EXTREME carrots! This is not progress. http://bit.ly/9jVU8Y
OK, there is Oh Lolli Lolli and Miss M's Candy Boutique. Any other new(ish) candy stores in #stl? #threesatrend
RT@nicklucchesi Pat "Deep Dish" Bertoletti eats four pounds of testicles and sets new world record. Congrats? http://bit.ly/9RiCj2
@ebertchicago has a cookbook out, The Pot. Lovely NYT article: http://nyti.ms/9KalRl
Niche makes an appearance in this week's edition of Missed Connections on Daily RFT: http://bit.ly/9fQCpV
Support Local Journalism.
Join the Riverfront Times Press Club

Local journalism is information. Information is power. And we believe everyone deserves access to accurate independent coverage of their community and state. Our readers helped us continue this coverage in 2020, and we are so grateful for the support.

Help us keep this coverage going in 2021. Whether it's a one-time acknowledgement of this article or an ongoing membership pledge, your support goes to local-based reporting from our small but mighty team.

Join the Riverfront Times Club for as little as $5 a month.