This is part one of Robin Wheeler's Chef's Choice profile of Robin Murphy of Baileys' Chocolate Bar, Rooster and Bridge Tap House & Wine Bar. Part two, a Q&A with Murphy, is here; part three, a recipe, can be found here.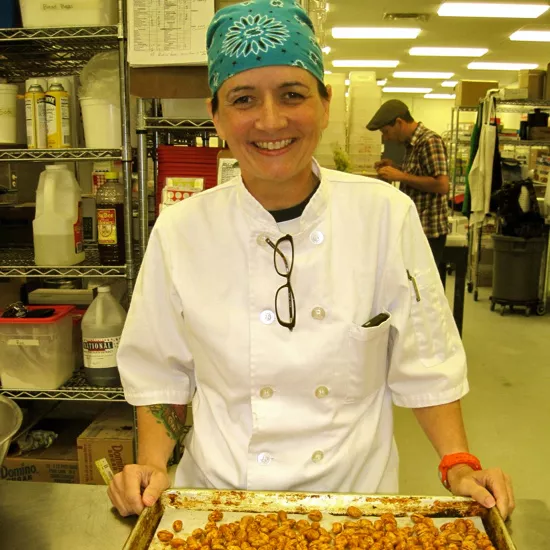 David Bailey's name is well-known on the St. Louis restaurant scene. He's the restaurateur behind Baileys' Chocolate Bar, Rooster, and Bridge Tap House & Wine Bar. But David Bailey isn't a chef.
Robin Murphy is a chef.
"Dave and I just hit it off perfectly. He is the king of ideas and I am the queen of reality. He'll walk in with these big balloons of ideas and how awesome and beautiful they are, and I just pop 'em all," Murphy laughs from her office in the central kitchen of all three restaurants.
"He's so humble about it that there wasn't any ego. It was like, 'Dude, I'll help you, but this isn't possible. Or okay, I know you want that and I'll try to make it happen,' and he knows that I will make it happen."
Murphy has been making food happen for Bailey's restaurants since Baileys' Chocolate Bar's first anniversary, when she arrived in St. Louis after fleeing hurricane-ravaged Pensacola, Florida, with her girlfriend, searching for a less stormy life.
By then she figured she'd had enough storms in her life.
Her father passed away when she was a toddler. "I think that just destroyed my mother," says Murphy, who was born in New York. "And she got married a year and a half later, because she was a New Yorker with a tenth-grade education working as a telephone operator and now she has two kids -- what do you do?"
Then her mother fell ill with cancer and found herself over her head. "I'm a hyperactive person, before they called it ADHD. But that's what it was. I could go from thing to thing to thing to thing and not realize it. My poor mother was at her wits' end."
She sent her daughter to live in a series of church-sponsored group homes. "I went to the group homes, which is where my first job was, in the kitchen. I think I made a dollar twenty-five an hour. As a kid that was enough to buy Doritos and Tiger Beat."
Eventually she was placed in foster care. "Graduated from foster care and was out in the world at age eighteen and had zero life skills, nothing to fall back on. I did college. I went to several colleges and just couldn't focus. I always went back to food. It was something I was good at, smart about, could plan little snapshots of food in my head that I wanted to make happen," Murphy says.
She made it happen by hitting the road and soon found herself working in southern California, where timing and attention to detail paid off at Le Brea Bakery, the creation of legendary chef and bread maker Nancy Silverton.
"Like most culinary careers, somebody quit and, 'Hey, what are you doing tomorrow?'" she says. "It was a baker. I was a barista at the time, doing that wandering-nomad career thing -- OK, lack of a career -- which is not rare. They gave me a shot and I loved it. I loved the anal-retentive organization. You get the same product every time if you follow certain rules. I'm a very rules-oriented person, so it fit my control-freak nature, which tends to draw pastry people."
She learned the basics. "But I wanted more. My whole thing is less is more, so simple, elegant California-style desserts. I had a tryout with Casey Hayden at Spago West Hollywood, and he was desperate," she cackles again. "He asked if I could start tomorrow. And wow, what an opportunity!"
Eventually she moved to Pensacola, but the ravages of Hurricanes Ivan and Katrina made the tourism-based restaurant industry unstable. So she moved to St. Louis, where her girlfriend's family lived.
"She sent me a link to an RFT ad for Baileys' Chocolate Bar, who was looking for a pastry chef," Murphy recounts. "Well, OK, I'll try it. Met Dave Bailey and was like, I'll get along with him. I can bake anywhere. And then I saw the kitchen and I was like, 'I think I can bake anywhere.' We used to do all the production there."
In case you haven't taken a peek, the Lafayette Square location's kitchen is about the size of an apartment kitchen. There wasn't enough room for Murphy to bake during business hours.
"I cried a lot the first three months, because the kitchen's so tiny and I had to be done by 3 p.m.. And cake? Bread? No. It doesn't stop. Really, making it happen took a lot of coming in at 4 a.m., or coming in when they were closing. Everyone would always joke that it was time to go home if Robin's coming in."
When Bailey opened Rooster, he chose a similar location -- an old building not well-equipped for a full kitchen. "The spaces downtown are really small," Murphy explains. "They don't have gas [lines]. They don't have hoods, so therefore you can't do greasy things. Well, let's do what we can and maintain that integrity. I think the logistics is one job in and of itself, aside from the menu development and maintaining employees, ordering and all that other stuff. "We were entertaining the idea of a new space where we could do a bunch of stuff and send it over. Dessert translates so easily, because you don't bake a cake for a customer while they're waiting. That's how it started. Then we realized we could make some stuff for Rooster while we're here. We can take a lot of this, create less of a footprint, and create a smoother system."
They set up a cavernous commissary space in Webster Groves and Murphy developed the process of how best to make food, while maintaining quality, for what would grow to three restaurants.
"You have to deconstruct the whole process from start to finish," she says. "You want pretzel bites that are crispy and soft and chewy and all that stuff. But you can't make them there. So what do we do? How do we work that backwards? That's exactly how I work. You want this final product? What does it require for me to do to get it where the quality, the quantity, everything I can keep up with. Because once you start something, people always want it.
"What we try to do is anything and everything that can be prepped -- shredded cheeses, salad dressings, bacon is pre-cooked -- the only difference is we're in a different space," she says, noting that Rooster's crèpe batter itself is made on-site: "It's pretty temperamental."
Pizzas at the Chocolate Bar are another object lesson in combining the central commissary with the small restaurant kitchen: "We make the pizza dough in the little shell form here. We par-bake them, and then when pizzas are ordered [the staff at the restaurant] make them fresh. It's not like we send over pre-made pizzas. It's not like Totino's.
"Bridge's menu is designed to be something that can be carried over," she goes on. "Lots of comfort food. Again, no gas, no hood, so they're very limited. That's when the idea of pots came into play. Stews and pots in the winter, then lighter entrées but still something you can pre-make, like the chicken pie."
The three restaurants use an ordering system Murphy designed. An in-house delivery driver makes sure everything arrives at the right place at the right time.
This combined-kitchen approach works well with Murphy's style of cooking. "That's the key to my food: just very simple things, very approachable, but when you eat it there's something different. That's just attention to detail and using good-quality ingredients."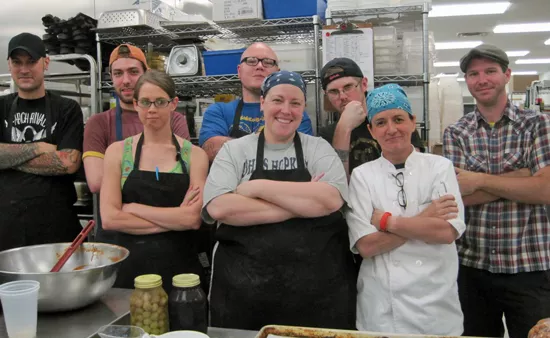 Robin Wheeler
Back row: (from left) Mike Bach, Daniel Parker, Justin Haltmar, Dave Wilson, Kenny Wilson; Front row: (from left) Tabbie Titone, April Blastenbrei, Robin Murphy
Her staff likes the setup as well. "I get line guys who are like, 'You mean there are no customers?'" she says. "You don't have to deal with servers yelling at you, ringing in late tickets. You don't have to deal with the bartender. You don't have to deal with any of that. You just have to focus on making the food the same way every time. Consistency is what I need."
The lower stress level helps everyone in the long run. "I know we're all here because we need money. And I know we need money because we have lives outside of this building, this job. That should be the priority. If you're not happy, it's going to show. You're going to feel it in the food. You're going to taste it in the food. It spreads like toxins."
Baileys' Chocolate Bar 1915 Park Avenue; 314-241-8100
Rooster 1104 Locust Street; 314-241-8118
Bridge Tap House & Wine Bar 1004 Locust Street; 314-241-8141