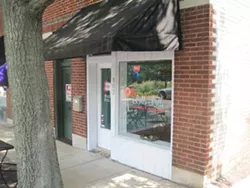 Ian Froeb
Oh Lolli Lolli opened on De Mun Avenue.
In July, I hypothesized that the hot, muggy weather might be responsible for the slow pace of restaurant news. Well, August was even worse, brutally hot and humid, but the month saw a fair number of openings and closings.
What does this prove? That I know nothing. But you already knew that. The full list of openings and closings is after the jump. As always, if we missed the news of a restaurant's debut or departure, please let us know in the comments.
Openings
Caitlin's Green-Eyed Grill
, 665 South Skinker Boulevard
Imo's Pizza
, 23 North Bemiston Avenue, Clayton (relocated from University City)
Miss M's Candy Boutique
, 6193 Delmar Boulevard
My Bread & Butter
, South Grand Boulevard at Keokuk Street
Oh Lolli Lolli
, 802 De Mun Avenue, Clayton
Pi 2 Go
, 14870 Clayton Road, Chesterfield
Taqueria la Pasadita
, 8724 St. Charles Rock Road, St. John (second location)
Closings
Badalas Bistro
, 200 North 9th Street
Mia Rosa
, 4501 Manchester Avenue
Mihalis Chophouse
, 1603 McCausland Avenue
Closed for Relocation

Gyro House
, 571 Melville Avenue, University City (moving to 6152 Delmar Boulevard)