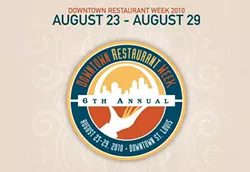 As Gut Check reported last month,
Downtown Restaurant Week 2010 begins Monday, August 23
. That, if you hadn't noticed, is today. From now through Sunday, August 29, select downtown restaurants will offer a three-course prix-fixe meal for only $25. It is a great opportunity to try something new or revisit an old favorite.
You can see
the participating restaurants and their menus
at the
Downtown Restaurant Week website
. If you haven't made a reservation or reservations, yet, you really, really should. Really. Go. Now. I'll still be here when you get back.