An odd scene unfolded at Busch Stadium Tuesday evening. No, not the Cardinals dropping another game to a sub-.500 team. Sadly, Cardinal fans are growing accustomed to that. This scene began before the first pitch. Food Network star
Tyler Florence
, host of such shows as
Ultimate Tyler
and
The Great Food Truck Race
, stood behind home plate with three bunches of grapes.
Human-size bunches of grapes. With faces and hands and an (understandable) wariness regarding Fredbird.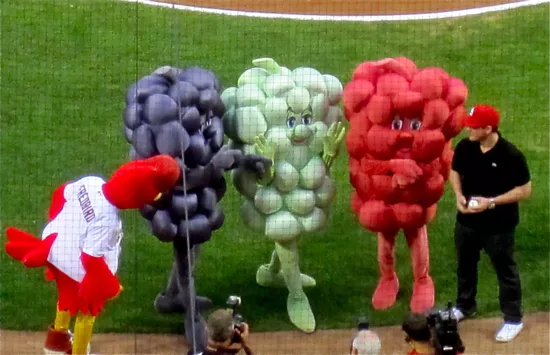 The occasion was
Grapes from California Day
at Busch Stadium, with Florence acting as pitchman. Literally. After posing for photographs with the three bunches of grapes, Florence threw out the ceremonial first pitch.
Grapes from California Day is a promotional effort by the California Table Grape Commission. The Cardinals are the fourth of five teams -- the Dodgers, Giants, Orioles and, lastly, the Blue Jays -- to participate. Fans could sample whole grapes and try such spins on classic ballpark food as a turkey bratwurst topped with grape relish. Copies of Green Black Red: Recipes for Cooking and Enjoying California Grapes were awarded to fans as prizes for the games broadcast on the scoreboard between innings.
As best Gut Check could tell, however, grapes played no part in the Kiss Cam. (Nor, for that matter, did Tyler Florence.)
Florence says the association with grapes "made sense." He estimates that his family, which includes three kids, goes through two to three pounds of grapes per week. In addition, Florence has been making wine for three years now. One effort scored a 92 from Wine Spectator, and he has partnered with Michael Mondavi to distribute his wine in all fifty states.
As for the ballpark food, the turkey brat with grape relish was tasty, the relish sweet but not too sweet. On an evening when an Albert Pujols blast and a nifty double play turned by Brendan Ryan weren't enough to overcome the not-so-mighty Milwaukee Brewers, that seemed just right.