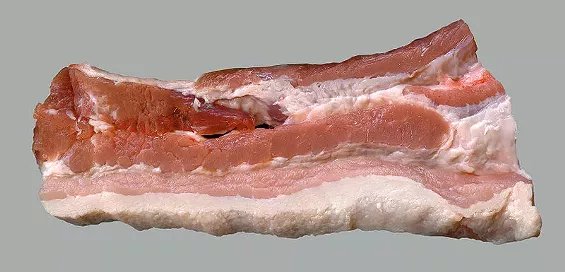 Take a long look. This might be the last pork belly you see for a while.
Bacon. Bacon on everything.
Bacon salt.
Bacon shoes.
Bacon bras.
The Bacon Explosion.
Deep down, you knew this day was coming:
According to the
Des Moines Register
, there is
a shortage of pork bellies nationwide
.
The price of pork bellies, from which bacon is made, has shot up from 94 cents per pound as recently as June to $1.40 per pound in August.

In stores, average retail prices have risen by more than $1 per pound since last year, to more than $4, the U.S. Department of Agriculture reported.

[snip]

Market analysts said the reason for the suddenly high prices is simple shortage: A year ago, 76.3 million pounds of pork bellies were in various commercial freezers around the country. In early August of this year, that storage figure had dropped to 35.4 million pounds.

Which leaves us two choices: Do we fetishize some other kind of meat? Or do we hoard?