Gut Check's Week in Tweets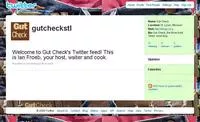 Don't you know? Gut Check has a Twitter account. You can follow us
@gutcheckstl
.

Here's some of what you missed on the Twitter feed this week:
There are Del Taco breakfast sandwiches (?) in the break room. Does Gut Check dare?
India's Wheat Surplus Rots While Country Continues to Suffer Malnutrion http://bit.ly/cDBESM
Europe's Largest Fruit Seed Bank Endangered by Real Estate Development http://bit.ly/9GDqcB
In case you wondered: The Fried Cheese Melt at Denny's (grilled cheese sandwich w mozz sticks) = 895 calories, 34g of fat.
RT @EvanBenn: 3rd new #stl brewery announcement in 2 weeks: http://bit.ly/9qHcKB
Support Local Journalism.
Join the Riverfront Times Press Club

Local journalism is information. Information is power. And we believe everyone deserves access to accurate independent coverage of their community and state. Our readers helped us continue this coverage in 2020, and we are so grateful for the support.

Help us keep this coverage going in 2021. Whether it's a one-time acknowledgement of this article or an ongoing membership pledge, your support goes to local-based reporting from our small but mighty team.

Join the Riverfront Times Club for as little as $5 a month.
Euclid Media Group, LLC
Read Our Sister Publications