Pujols 5 Westport Grill
vs.
Ozzie's Restaurant & Sports Bar
. Play ball.
(Of course, this isn't the first time
the two restaurants have tussled
. Now that Ozzie's has departed Westport Plaza for Washington Avenue, the score stands Pujols 5 - 1, Ozzie's - 0.)
Click through for the contenders, the battle and the verdict.
The Contenders
First up is
Pujols 5 Westport Grill
. Waitresses, who sport red flowers in their hair, are constantly kept on their toes by a bar that's packed, even on a hot as Hell Tuesday.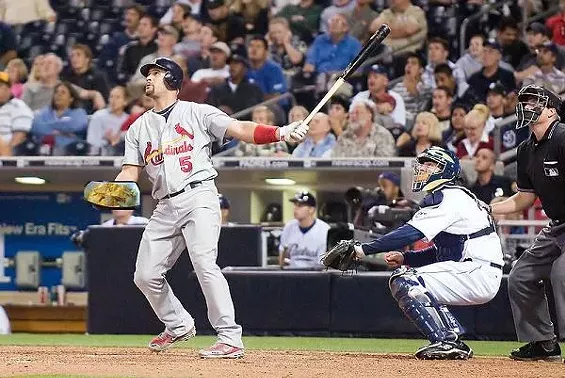 Albert Pujols will deliver your nachos as soon as his home run clears the fence.
The colorful "Chipotle Chicken Nachos" call to mind a Funfetti cake: The black olives, yellow corn, green onions, jalapeños and cheddar cheese all contrast nicely against the sour cream and festive red and white tortilla chips. (The only downside to the red ones was that their dye tinged the chicken a somewhat disconcerting fuchsia.)
But the promised black beans were merely a smear, and some of the cheddar was as scorched as a fan in the bleacher seats. The fire-roasted tomato salsa was spicy and smoky -- a definite highlight -- and the chicken was so tender you could easily imagine it starring on a sandwich. Though Pujols 5 doesn't reinvent this bar-food staple, the $7.95 nachos certainly cover all the bases and were more than filling enough for two people.
By the time we reach
Ozzie's Restaurant & Sports Bar
a few innings later, the Cardinals have somehow managed to dig themselves in a double-digit hole. Perhaps the "Easy to Eat Nachos" there will salvage some aspect of these dismal late innings.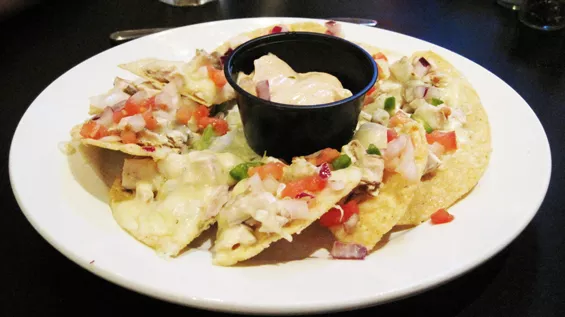 Kristie McClanahan
The nachos at Ozzie's Restaurant & Sports Bar
At $8.25 the appetizer seems a bit steep, especially when the menu says we'll get just eight tortilla chips. Plus, the notion of "Easy to Eat Nachos" is a bit perplexing because, by definition, they just aren't. It's a given that some chips will be soggy under the weight of the toppings, while others will wind up bare. But maybe, like the Brockabrella, it will prove that convention needs to be turned on its head every now and then.
Or maybe not: Though given more than the stated eight (closer to a dozen), the chips had an oddly uniform look to them. "There's no orphan in that bunch," a friend observed, and he was right. Each chip was blanketed with a white Monterey Jack cheese, but the onions, tomatoes and jalapeños were used only sparingly. Overall the dish was a whiff. The tangy chipotle sour cream proved indispensable, providing the only pop of flavor to an otherwise bland app.
The Verdict
Though Albert and Ozzie are generally known as solid guys on and off the field,
the nachos at Pujols 5 were the ones that really, er, stepped up to the plate
.