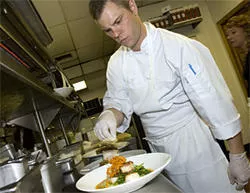 Jennifer Silverberg
Harvest executive chef Nick Miller
I poke my head up from Other Projects here at Gut Check International Headquarters to acknowledge some of the news tidbits that our friends around town have reported:
George Mahe
reports
on
Feast
Relish that
Wasabi
will purchase
Sansui
(9983 Manchester Road, Warson Woods; 314-966-7786).
On Tuesday, Jerry Berger
declared
in a piece headlined "Harvest Restaurant's New Owner" that executive chef Nick Miller would purchase
Harvest
(1059 South Big Bend Boulevard, Richmond Heights) from Steve Gontram. However! Today,
Sauce Magazine
hears
from Gontram himself that no sale is imminent.