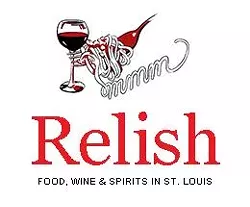 I suppose this was inevitable:
George Mahe
announced today that
Feast
, the food blog of
St. Louis Magazine
, will henceforth be known as
Relish
. There is
a new website for Relish
and
a Twitter account
, which you should bookmark and follow respectively because Mahe and his team do a fantastic job reporting on and analyzing the local food scene.
The reason for the change, if you haven't been following the local food-media scene lately: the introduction by Lee Enterprises of a monthly St. Louis food and lifestyle magazine, also called
Feast
. On the post announcing the change, Mahe explains the reasoning behind it:
For the last several months, there has been a lot of FEAST-ing going on around town, and like you, we found it all a bit confusing--not to mention off-putting. (Does St. Louis really need two local food publications that share the same name?) So, rather than fight, scratch, dilute the brand, and contribute to the disarray, we thought we'd simply step away from it.

Mahe also notes that to its stable of writers Relish will add the dean of St. Louis food writers,
Joe Pollack
, and his wife
Ann Lemons Pollack
as well as
Bill Burge
of
STL Bites
.