This is part three of Robin Wheeler's Chef's Choice profile of Beckie Jacobs of Serendipity Homemade Ice Cream. Part one is available here, and part two, a recipe, is here.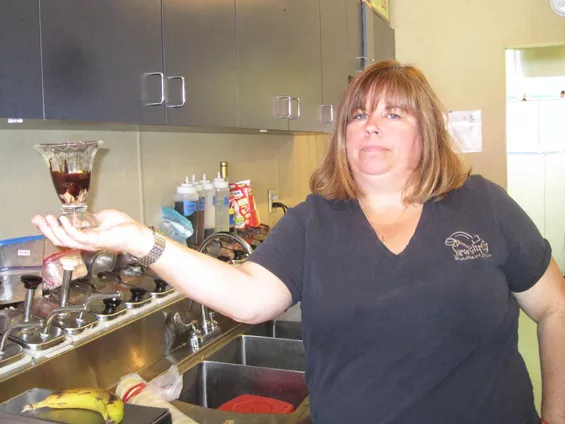 Robin Wheeler
Beckie Jacobs, owner of Serendipity Homemade Ice Cream
Did your family cook when you were a child? If so, what meals stand out?
We ate normal, 1970's type meals, steak and potatoes, chili, barbecue. Marinated and grilled steak is probably my most favorite childhood meal, with baked potatoes and string beans.
How old were you when you started cooking?
I started cooking in college, out of necessity!
What was your first kitchen job?
My first kitchen job was at The Lettuce Leaf in Clayton, which is where The Crossing is now. When I go there, either to eat or deliver ice cream, I have really great memories.
Did you attend culinary school or college?
I have a bachelor's degree from Mizzou, I attended the Culinary Program at Forest Park, and I went to Ice Cream Schools at the University of Wisconsin and Penn State. I continue my education in my field by attending "ice cream camp" each November.
What do you eat?
I really love a good burger.
We'd be most surprised that you eat
Dairy Queen, but only out of town where I won't see anyone I know!
What do you cook at home?
When I cook, it is simple stuff that I can pick up at the Kirkwood, Webster or Ferguson farmers markets: pasta, stir fry, something on the grill and lots of tomatoes and peaches right now!
3 favorite restaurants in St. Louis, besides yours?
Pi
for pizza,
Ricardo's
or
Trattoria Marcella
for Italian and
Dierdorf and Hart's
for steak.
Local chef who most impresses you?
We work with so many creative chefs I cannot begin to pick.
Favorite restaurants elsewhere?
The original Joe's Stone Crab in South Beach.
Your favorite food city?
St. Louis!
Most essential ingredient in your kitchen?
Cream, of course, at work. Potatoes at home.
Favorite local ingredient and where you get it?
Right now my favorite local ingredient is peaches, and I get my peaches from Murray's Orchard in Calhoun County. Laurie Murray is a great purveyor.
Five words to describe your food?
Best Ice Cream In Town.
One food you dislike.
Green peppers
One food you can't live without.
Besides ice cream, potatoes.
Your favorite after work hang-out?
Fitness Center at the JCC.
One person, dead or alive, you'd love to cook for?
That's easy, my dad. He died three days before Serendipity opened, seven years ago.
Favorite music to have in the kitchen?
Anything I can sing to.
What's on your pizza?
Pretty partial to the Bucktown at Pi.