Welcome to Girl Walks into a Bar, a weekly Gut Check feature that spotlights local bars and bartenders. This week Alissa Nelson profiles Eclipse bartender James Lake. Below is a Q&A with Lake, followed by a video of him mixing a Cuddle.
Alissa Nelson
Eclipse bartender James Lake
A light rain is falling at the rooftop Moonrise bar at
Eclipse
, one of the rare times the bar can be found unoccupied. The bar area itself is luminous, the icy color scheme reminiscent of its lunar namesake. The tiles nearly match bartender
James Lake
's eyes. Lake is puttering around behind the bar, arraying his bartender's tools meticulously, ready to assemble his signature drink, the Cuddle.
Eclipse is in many ways a move up for Lake, both literally and figuratively. Lake was the bar manager for the short lifespan of the first incarnation of the Wedge, in south St. Louis. The demise of that bar led him to seek out employment in the Joe Edwards empire. He initially worked his way through the ranks as a member of the security staff before taking his place behind the bar.
Click through for a Q&A with Lake and a video of him mixing a Cuddle...
Eclipse is a radical departure from the relaxed punk vibe of the Wedge, where Lake slung beer more often than he mixed cocktails. With managers Lucas Ramsey and Seth Wahlman's focus on pre-Prohibition drinks, Lake has learned about pairing flavors and using fresh infusions and juices instead of "popping tops and pouring shots". He repeatedly expresses his joy at the restaurant's focus on quality ingredients and careful mixology, "even over speed...if the drink isn't good, it's not even worth setting out."
On the side, Lake has also joined with Eclipse coworker Amanda Jerald and Mosaic's Josh Charles to develop drinks for the Cherokee Peach. For now, the trio is hosting special event dinners and brunches in a Cherokee Street space shared with the Archive and hope to open a full market and café by the end of 2010. The current set up is a welcome challenge, says Lake, who for the first dinner in June was given a list of alcohols and herbal infusions with only a week to put together a cocktail menu. "I enjoy the step out of the well-prepared bar into the all-of-a-sudden bar."
Lake's interests extend beyond the bar, with regular forays into DJing at the Halo Bar and Flamingo Bowl and past gigs at Sol. Those sets are a similar mixture of high and lowbrow, with "lot of techno, a lot of hip hop, a little punk mixed in, some Chuck Berry, a little Nina Simone...it's really all over the place."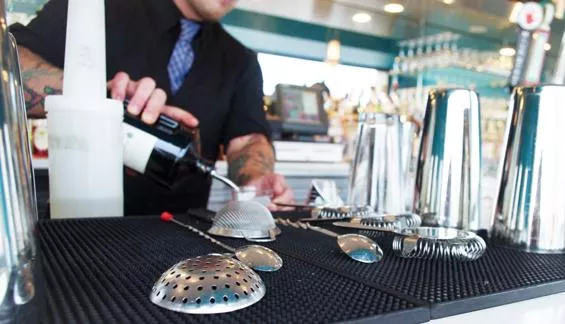 In 3 words, how would you describe your bar tending style?
Fast. Quality. Efficient.

Favorite drink to drink?
My standard go-to when I'm at any bar is a vodka Red Bull, because it's easy and you don't have to explain anything. Here, it's the Cuddle.

Favorite drink to make?
One of our signatures -- the Blood and Sand -- because it has a flaming orange across the top. There's a nice smokiness to it, but it's easy to make and fun. And the Cuddle -- it's also fun.
Drink you hate making?
Mint julep. You have to fill a glass with ice and crush it by hand. It's not difficult, just time-consuming.
What makes you ignore a customer at the bar?
No, I'll pretty much serve anyone.

Can you tell when someone is going to be trouble as soon as they walk in?
If they're already drunk when they come in. Besides that, it's hard to hold anybody to a standard by looking at them. People will surprise you every time.

Worst/best thing you've ever seen happen in your bar?
This is probably the best/worst thing I've seen here. This guy came in, and I don't know why he got aggravated, but we were slammed, and he was standing in the service area which has clear signs saying "do not stand here, you will not be served." He was like, "Let's play flip cup," and grabbed one of the pint glasses, sat it down and then flipped it. It flipped over all of the glasses and then landed perfectly on the mat. It was just one of those moments like, "That was impressive, but you've got to leave now."

How do you keep yourself occupied on a slow night?
Besides bullshitting with the other bartenders because we're all chatty Cathies and are wont to do....With this bar, especially the downstairs bar, we have such a wide variety of liquors and I don't know all of them, so every once in a while I just taste the whiskeys and learn the differen flavor contents of them. Or just think of new cocktails that I can give stupid names to.

Who would you most like to have a drink with?
I think Kurt Vonnegut would be interesting. [He was] just a crazy old dude to just sit around [with] and go, "Wow, you are just a rambly old guy." And Tom Waits. I don't get real star-struck, but I would be a blathering fool around Tom Waits.

Where are you most likely to be found when you're not in this bar?
Flamingo Bowl. As a drinking bar, that's my drinking bar, and the staff is so fun.

Best hangover cure?
More alcohol, usually Buffalo Trace or Jameson. If you're going to be shaky, you may as well be shaky and drunk.
Worst pickup you've ever seen?
My favorite one of all time -- it's so upfront, like offensive upfront -- this guy walked up to a girl and was like, "Hey, do you have a receptacle?"

Most unusual liquor you've ever seen?
There's a whiskey in Chicago at a bar called Delilah's, called Delilah's 16 Year. It's a really nice, spicy whiskey. It's a little on the pricy side, like $25 a shot, but it's worth it. That, or cacique from Costa Rica.

If you could start a band, what kind of band would you start?
I actually wanted to start a band that would have been called Doomsday Parade and would have involved parade-style backbeats, like drumlines, and scream metal. Something along the lines of Pantera meets King Missle.
Best/worst drinking holiday?
Mardi Gras has got to be the hands-down worst. I hate it. It's like the weekend warriors' parade. My favorite drinking holiday is Cinco de Mayo, because next-to-no Americans actually celebrate it, and down on Cherokee Street it's so much fun.
Biggest tab you've ever seen?
The biggest I ever had was $400, and that was half-off. Industry people always have the largest tab around.

Drunk food of choice?
That would have to be Jack in the Box Ultimate Cheeseburger.
3 adjectives that describe your bar:
Beautiful view. And quality.

My bar is the only bar in St. Louis where...
you get one of the best views in St. Louis.
Eclipse
6177 Delmar Boulevard
314-726-2222