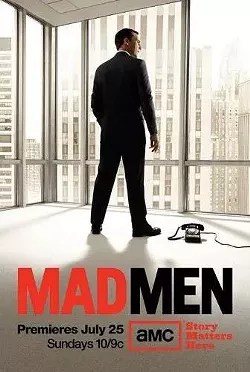 Mad Men
returns for its fourth season this Sunday, July 25, and while devoted fans can't wait to see how the show resolves the shocking end of its third season -- no worries: no spoilers here! -- others simply look forward to returning to a time when men still wore hats, everyone smoked and drinking at the office was not merely acceptable but encouraged.
Gut Check can't offer much advice about bringing men's hats or cigarettes back in fashion, but drinking at work is something we know a little about. Here, gleaned from careful observations of the show's first three seasons, is the
Mad Men
Guide to Drinking at the Office.
Always Keep a Well Stocked Bar
If you keep one bottle of liquor at your desk -- or, more likely, hidden away in a drawer of your desk -- you are a sad, lonely drunk and it's only a matter of time before HR bounces your ass to the curb. If you keep a wide selection of liquor and mixers, ideally arranged with glassware and a bucket of ice on a tabletop, you acquire an urbane charm that you'd otherwise need to read the entire archives of
GQ
's "Style Guy" to achieve.
Know Your Cocktails
By "know," we don't mean have a copy of
The Bartender's Bible
handy. We mean know the recipes for classic cocktails by heart.
Mad Men itself offers a handy guide.
If you really want to impress your colleagues, clients or the hot new intern, learn a few forgotten cocktails and whip them up from time to time. As a corollary to this step: Never entertain a request for a cosmo or other frou-frou drinks. Always remember: Office drinking is serious, sophisticated business.
Always Be Drinking Already or Making a Drink When You Offer Someone Else a Drink
It's essential to shatter the notion that drinking at work is taboo. If you are already enjoying a cocktail or mixing one or even just pouring whiskey over ice, it becomes far easier for others to accept the offer of a drink. Conversely, if you don't have a drink in hand, and your guests decline to have one, you'll feel obligated not to have one yourself, and the unfortunate taboo will remain.
Lunch Should Always Be Counted in Number of Martinis, Not Minutes
The martini is a vital component of the business lunch. It's a sort of shorthand: a four-martini lunch involves matters of greater urgency, thus requiring more gin lubrication, than a three-martini lunch. And so on.
Know Your Limits
One of the advantages of drinking at the office is that, over time, you'll build your tolerance, thus ensuring that, even after several glasses of scotch, you can still put together the pitch that will floor Kodak executives and leave viewers at home weeping at the passage of time in their own lives. Still, even the strongest-jawed executive has a limit, and when that limit is crossed in front of colleagues -- let alone clients -- the damage can be immense. If you feel compelled to piss your pants or amputate someone's foot with a riding lawnmower, it's time to switch to black coffee.
Never Use Office Drinking as an Excuse for Hanky Panky
We understand. Office drinking, when done properly, makes you feel sophisticated and, yes, sexy. And a little flirting never hurt anyone. Take it too far, however, and next thing you know, you're having a torrid affair with a department-store heiress or finger-banging the lonely wife of a mediocre comedian. Trust us: It's not worth it.
The Appropriate Transition from Office Drinking to an Evening with the Family is Another Drink
You should pour yourself a drink after removing your coat and putting down your briefcase but before loosening your tie. Consider training your spouse to have a drink ready for you by your usual arrival time. If you take the train home and can enjoy a cocktail en route, all the better.