This is part one of Robin Wheeler's Chef's Choice profile of Amy Zupanci of Fond and Township Grocer in Edwardsville, Illinois. Part two, a Q&A with Zupanci, is here and part three, a recipe, can be found here
.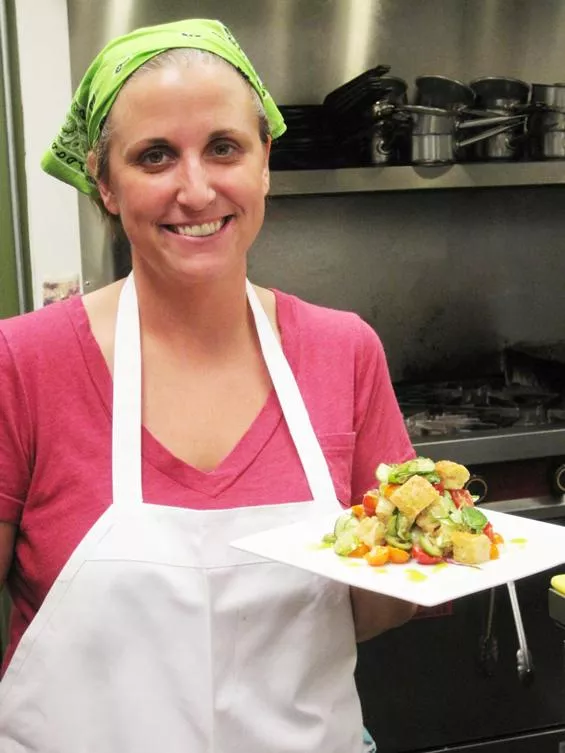 Robin Wheeler
Amy Zupanci, chef and owner of Fond and Township Grocer
When
Amy Zupanci
sits at a sidewalk table in front of
Fond
and
Township Grocer
, her Edwardsville restaurant and market, she talks to the most of the people who walk by and waves to many of the cars that drive the bustling intersection of Main and Vandalia.
"How'd I wind up here, sitting on Main Street, drinking Matt's coffee?" she laughs, referring to Matt Herren's
Goshen Coffee
.
Zupanci grew up in Edwardsville, and much of her family still lives in the area. After a childhood of pursuing art, she earned a degree in advertising from the University of Illinois - Champaign-Urbana. "My parents were adamant that I not get an art degree, because they were paying for it," she laughs. "No effin' way! I completely understand. So what's the closest thing I can do in the arts that I can still make a living? I went into advertising and graphic design."
Art and design classes were great, but sitting in front of a computer, fiddling with Photoshop, bored Zupanci.
During her junior year she started booking bands through a student organization. When that job ended, she started booking bands through an agency in Chicago and found that the world of bands and bars was a great fit for her high-energy personality. She quickly worked her way into a job for one of the biggest bar owners in Champaign-Urbana.
"I got a first-hand view of the lifestyle, a lot of really insane things to see as a 21-year-old in the bar and restaurant business. I was like, I want to do this! This is cool, it suits me, it suits my hours."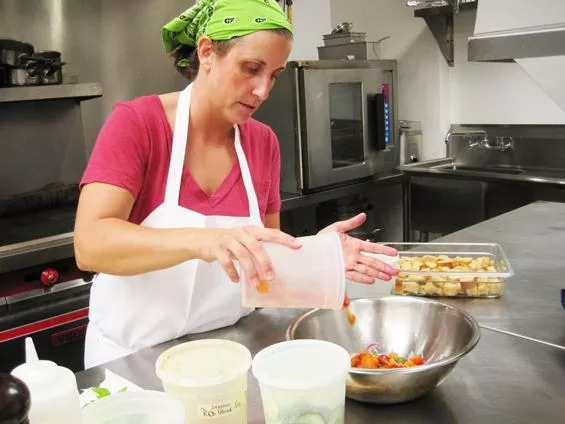 That experience prompted her to enroll in the Culinary Institute of America in Hyde Park, which she viewed as graduate school. She broke the news to her parents at Christmas during her senior year.
"I probably shaved off a year of each of their lives by holding them for two minutes while I went to get the brochure. When I said, 'I need to talk to you guys about something,' and left? And I'm in college, and I'm a girl, about eight thousand things ran through their minds other than culinary school. By comparison to all the other things it could have been, they were like, 'Oh! Okay! Great. Go do it.'
"Their response, too, was, 'We knew you'd never go into advertising. You're too active. You can't sit in front of a computer.'"
At the time the C.I.A. required prospective students to have at least nine months experience in a professional kitchen. Her boss let her work her hours in the grill at one of his bars, while she still booked bands and finished school.
Her time in at culinary school in Hyde Park turned her on to New York City. Goal number one became living in the city by whatever means possible.
For ten years Zupanci worked her way around the city, at one point working a lunch shift at one restaurant, an evening shift at a wine shop and baking with one of the city's first cupcake businesses in the wee hours. She weathered the business downfall after 9/11, spent time managing the wine shop and took every opportunity to work in as many kitchens as possible.
She knew she wanted to open a restaurant but didn't want to do it in New York. Her trips back to Illinois left her longing for the good food that she knew the farms of the Midwest were capable of producing. With colleagues in New York willing to invest, Zupanci created the business plan for Fond, focusing on sustainability -- foods that would help sustain the farmers and community, served in an atmosphere that utilized repurposed items, antiques and environmentally safe building materials.
Zupanci didn't abandon art and design, though. Her paintings hang in Fond, and her eye for color and design runs through her businesses in the handmade books that hold the wine list, the arrangement of the repurposed glass canisters that hold the store's bulk goods and the signage for both businesses.
In 2007 she returned to Edwardsville, working at places like Niche to keep busy while she finished eco-retrofitting her portion of the Bohm Buidling for Fond's October 2008 opening.
"Literally within the first four or five months after I opened, this couple asked, 'What can we do to make you stay? We want to make sure you're successful.' What a phenomenal thing. So we started a wine group."
The group has met every month since March 2009 at a communal table, where they share Zupanci's food with wine pairings by Tom Crowder from Southern Wine and Spirits of Illinois and a bit of wine education from Crushed Grapes, an Edwardsville wine shop.
It's not just traditional food and wine fans that have help Fond thrive. "I love the couples who come in who are in their thirties. This is the nicest restaurant they've been to. They don't know which fork to use. It's okay, it's cool. And it opens their eyes and they get it.
"I hate going to the dining room. Leave me in the kitchen. I'm not good with the public. Leave me in the back. But with these couples [manager] Steven [Cox] will come to me and say, 'You have to go say hello to them because you will love them. And meeting you, they'll get it.' And they do. It's the coolest experience when you go to a table and you've opened their eyes and they didn't know food could taste like that."
In May she opened Township Grocer next door to Fond. The shop features Zupanci's favorite dry goods, domestic cheese, and local produce and meat. A few tables topped with mid-century vintage linens offer a comfortable spot for a sandwich at lunch from the ever-changing menu.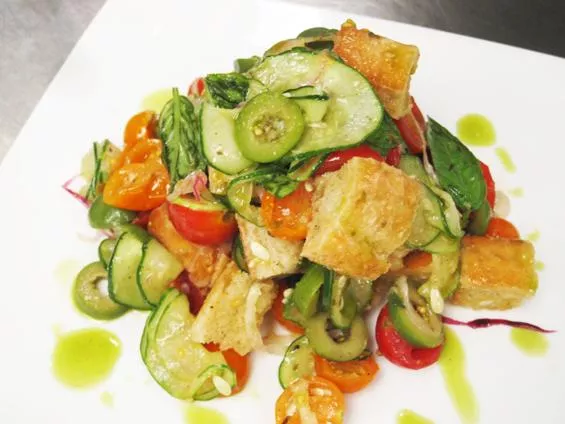 Zupanci still maintains the manner of one who's lived in New York for a decade -- she talks fast, moves fast and slows for little. While waving at the cars that honk hello and being interviewed, she also manages to order wine for the monthly wine dinner and visit with the vendor. Then she does the same with her beer vendor, while fielding a phone call from her local beef and pork farmer. She visits with Herren and texts with her staff inside Township to make sure they're handling the lunch rush, stepping in when they need her to fry some green tomatoes for po'boy sandwiches. Her dad stops by to discuss where to hang plants in front of the store.
While the Midwest sensibility might categorize such multitasking as rude, Zupanci does it in a way that leaves everyone feeling like he or she has been the center of attention. It's a part of sustaining a community that she loves, one that balances old and new, rural and urban.
"If you take everyone in the 27 to 42 age group, we get that there has to be a symbiotic relationship between old and new. We're not going to give up our wi-fi. We want the technology in a really smart, clever way. You can integrate it in these old buildings. We don't have to keep tearing down and building new. It's certainly more difficult to retrofit, but there has to be a reverence for the old, or else you don't appreciate the new."
She embraces these ideas with her cuisine. "They're basic ingredients. I'm not using crazy, weird, foreign ingredients. It's making people taste a radish again for the first time. I like that. I always thought I hated radishes. Ever had them butter poached for an hour? Delicious! It's reintroducing them to foods that they have overlooked."

{to be continued...}