The Joint: Eleven Eleven Mississippi 1111 Mississippi Avenue; 314-241-9999
The Hours: Mon.-Thu. 4-6 p.m. and 8-10 p.m.
The Deal: Monday: $5 specialty cocktails. Tuesday: $2 local bottled beers. Wednesday: half-off bottles of wine. Thursday: $5 wine by the glass. Half-off pizzas every day.
What if I want a bottle of beer and my date prefers wine? We'll never see each other!
The Scene: Soft lighting, graceful décor, open architecture that allows you to see every level of the restaurant -- Eleven Eleven Mississippi boasts an understated, elegant and intimate atmosphere and a topnotch level of service to match. This draws a sophisticated, white collar-type crowd, but unlike most higher-end restaurants, this one's easy to feel at home in, especially with comforting details like the bit of cushioning that cradles your elbows when you lean on the bar.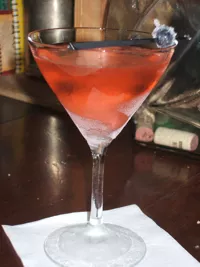 Kristen Klempert
The lady in pink!
The wine list offers something for everyone; the best word to describe the specialty cocktails is demure. They have names like "The Pink Lady" (berry vodka infused in-house, sparkling wine, o.j. and crystallized blueberries), are garnished discreetly and, if anything, are likewise too subtly flavored.
Why You'll Go Back: Your experience in the dining room will bring you back. The food here is amazing; trouble is the pizzas are the only eats that get reduced Happy Hour pricing, and the entrées are a tad more substantial than you're likely looking for between 4 and 6 p.m.
The Verdict: It's nice to sit at the bar and soak up the atmosphere, but Eleven Eleven isn't a Happy Hour destination. By all means go to Eleven Eleven for a Happy Hour cocktail or two, but stick around for the main event: dinner.