Given Gut Check's never-ending quest for obsession with great wine values, we figured it'd be a good idea to check in from time to time with local merchants. They pick three wines they consider to be excellent values, and Gut Check buys and tries one of them. Price is important, but value is really what we're all after.
Dave Nelson
Rachael Buehrer, co-owner of the Vino Gallery in the Central West End, specializes in wines from small producers.
The Vino Gallery (4701 McPherson Avenue; 314-932-5665) hasn't been around long, having opened in the Central West End earlier this year, but its selection immediately impressed Gut Check with its emphasis on small producers across the taste and price spectrum.
Explains co-owner Rachael Buehrer: "We're not doing this because we have to, we're doing it because we love wine and want to share that with people."
To that end, the Vino Gallery's stock changes frequently, as many of the wines they bring in are made in lots that number in the hundreds of cases, not the thousands, or tens of thousands. the way Buehrer sees it, "It's a lot of fun to experiment with things that are different."
Rarity doesn't necessarily correlate with expensive, though, and the Vino Gallery's inventory has a wide selection at the value end of the spectrum.
First up: Buehrer's value pick...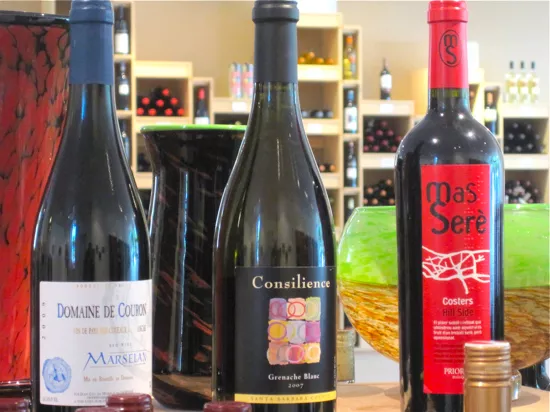 Value Pick 2008 Domaine de Couron Marselan Vin de Pays Des Côteaux de L'Ardeche ($12)
Made from marselan, a rarely seen offspring of cabernet sauvignon and grenache. Buehrer says not to be put off by this southern French wine's "inky black color"; your senses of smell and taste will soon make their acquaintance with "a really pretty little wine with a lovely violet aroma."
Gut Check opened a bottle of this wine during our recent World Goblet 2010 competition, where it brought home a win for France, with its beautiful blend of just-ripe fruit, nicely integrated acidity and tannin and undeniable "Frenchness."
Next up, something special... Something Special 2007 Consilience Grenache Blanc Santa Barbara County ($21)
Buehrer calls this "one of the only single varietal grenache blancs I've seen, and it's interesting to expose people to things they haven't had or even seen before." As for what to expect, she says, "Taste-wise it's fairly similar to a more floral chenin blanc -- the acidity is there, but there's a definite floral component and the honey component is beautiful and appropriate for summer as well."
Getting to taste wines made solely from a single grape that is usually blended is an opportunity Gut Check can't resist, so we picked up a bottle to try. How would this historic component of white Châteauneuf-du-Pape fair on its own?
Quite nicely, thank you. It's a bright brassy color with a bold nose to match. The honey Buehrer promised is here in spades, along with pineapple, lemon curd, toast and spice. It's a powerhouse on the palate, too, undeniably big and rich, but with surprising verve. And never unwieldy or awkward. If this wine were an Olympic athlete it'd be a gymnast, not a weightlifter. This wine would elevate to elegance a simply prepared meaty fish like halibut or swordfish -- and vice versa.
Ready for a splurge? Splurge 2002 Mas Serè Costers Hill Side Priorat ($54)
The Priorat has gone from being an almost-forgotten viticultural backwater to an international sensation over the past twenty years. Its metoric rise was based on powerful grenache-heavy reds. Buehrer's choice is a blend of 75 percent grenache and 25 percent carignan, eschewing the trend in Priorat to include "international" varieties such as cabernet sauvignon. This fits well with her personal preference for "wines that have been left as alone as possible," as well as her belief that the most compelling wines are made when they "stay true to what it ought to be, because you'll do well if you're in the right location."
She adds that this wine is a little softer than many high-end Spanish offerings. because the carignan smooths it out and grenache isn't one of the heavier grapes. Also, the Priorat is a relatively cool region owing to its altitude, which helps ameliorate the super-ripeness that grenache can so easily reach. So this wine provides rustic peek into what Priorat was before it became so popular.
Finally, note the vintage of this wine: The Vino Gallery's willingness to stock small-production offerings allowed them to score the tiny stash of this eight-year-old gem.
The Vino Gallery 4701 McPherson Avenue; 314-932-5665