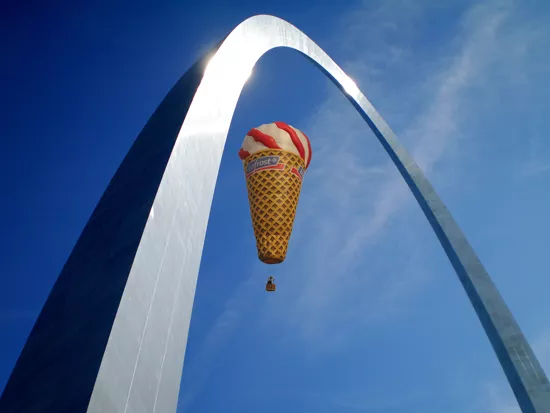 We have the Gipper to thank for this one. Sweets-loving president Ronald Reagan issued an official proclamation marking the third Sunday in July as National Ice Cream Day.
Despite the cone's reputed creation at the 1904 St. Louis World's Fair, our town's not making a big deal of the holiday. We called around and learned that for most local purveyors, Sunday's just another day. But not Serendipity Homemade Ice Cream and (to a lesser extent) Fountain on Locust. They've got some celebrating to do.
Beginning at noon Sunday, Serendipity (8130 Big Bend Boulevard, Webster Groves; 314-962-2700) will offer a different $2 special every hour. At 6 p.m. they're busting out the balloon animals (courtesy of Silly Jilly the Balloon Artist), plus a selection of celebratory ice cream "mocktails."
Owner Beckie Jacobs and chef Mary Harden, who made the move from Wapango to Serendipity in the spring, helped create a classic cocktail-inspired menu for Sunday evening. It features piña coladas, Irish car bombs, brandy Alexanders and grasshopper milkshakes; Jack Daniel's chocolate sundaes; and girly-drink sorbets in cosmopolitan, hurricane and margarita flavors.
Seeing as how cocktails and ice cream are the most joy-inducing consumables in the world, of course there will be dancing. Del Mar Blue commences playing when mocktail service begins. The good times are scheduled to roll on till 10.
The celebration at Fountain on Locust (3037 Locust Street; 314-535-7800) is a bit more low-key, but you don't need a lot of fanfare when you have one of the best bathrooms in America. They'll also have their limited-run fresh red raspberry ice cream for the big day, from noon till 10.