Gut Check's Week in Tweets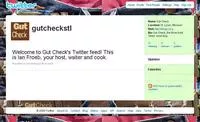 Don't you know? Gut Check has a Twitter account. You can follow us
@gutcheckstl
.

Here's some of what you missed on the Twitter feed this week:
Anthony Bourdain features the "Heartland" on tonight's No Reservations. Doesn't look like Missouri made the cut...
Salmonella: It's Not Just for Chicken and Eggs Anymore. http://bit.ly/9gSiwB
Five Foods That *Should* Be Genetically Modified - http://bit.ly/dqJ8Uo #readitbeforeyousendindignanttweets
Wendy's "Reinvents" Salads as Fat-Soaked Calorie Bombs - http://bit.ly/aFshym
Ted Kilgore on Bon Appétit naming Taste by Niche of the 10 Best New Cocktail Bars: http://bit.ly/dCyxoh
Support Local Journalism.
Join the Riverfront Times Press Club

Local journalism is information. Information is power. And we believe everyone deserves access to accurate independent coverage of their community and state. Our readers helped us continue this coverage in 2020, and we are so grateful for the support.

Help us keep this coverage going in 2021. Whether it's a one-time acknowledgement of this article or an ongoing membership pledge, your support goes to local-based reporting from our small but mighty team.

Join the Riverfront Times Club for as little as $5 a month.
Euclid Media Group, LLC
Read Our Sister Publications