Deli loyalty in South City is no trivial matter. Which is better,
Mom's
(4412 Jamieson) or
LeGrand's
(4414 Donovan)? Debates are fierce. Feelings can get hurt.
The always-impartial Gut Check will now preside over a deli duel between these two venues based on a apples-to-apples comparison: The Mom's Special vs. The Legrand's Special.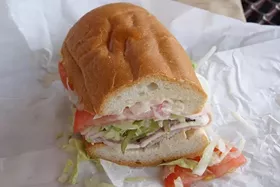 Photo by Nicholas Phillips
The Mom's
The Mom's Special
($5.20)
Background:
Delores Vago
(or "mom") has retired, but her two sons, daughter-in-law and granddaughter have kept the place humming along. Mom's has been doing
sammies
for 33 years.
When
RFT
crowned the joint
Best Delicatessen in 2005
, much was made about waiting in line. And on a recent weekday, there was indeed a line stretching to the front door.
But thanks to a staff that makes, wraps and rings up sandwiches at lightning speed, that line moves super fast. Plus, the clientele was familiar with each other, quite chatty and by all accounts deeply supportive of the Cardinals.
The chip selection is standard with some cool additions, such as Old Vienna Red Hot Triplets, Jay's Salt and Sour, and Pelican Bay White Cheddar Cheese Popcorn.
The Sammy
: turkey, ham, roast beef, munchee cheese, lettuce, tomato, pickles, onions, homemade 1000-Island dressing.
The Skinny
: The Mom's Special is a saucy affair, as they pour on enough 1000-island dressing to probably submerge 1,000 actual islands. But the bread -- from Fazio's bakery -- is quite fresh. The veggies were what you'd expect. The meat equals about 1/3 lb. It's a filling sandwich.
Photo by Nicholas Phillips
The LeGrand's Special (bread looks smooshed thanks to your reporter's indelicate handling).
The LeGrand's Special
($5.39)
Background
: LeGrand's -- one of St. Louis' very last Tomboy grocery shops -- is larger than Mom's. It's a
bona fide
family-owned supermarket that's been making sandwiches seriously since the late '90s, and now has
46 to choose from
(while Mom's has about 30).
RFT
named it
Best Delicatessen last year
.
The space is far less intimate than mom's, and the in-line chats not as loud. At lunch hour, it might take slightly longer to get your food here. The chip selection is huge (50+ options), with such oddball favorites as Uncle Ray's Dill Pickle and Oke-Doke Onion Rings.
The Sammy:
Roast beef, corned beef, turkey, cheddar, lettuce, tomato
The Skinny
: There's a bit more meat on this one -- about 0.46 lb. And it seems to be of higher quality: LeGrand's cooks their own roast beef and corned beef. The ham comes from Miller's, steps away from the Lemp Brewery off Antique Row, while the turkey is Boar's Head. The bread is from Fazio's. Veggies are what you'd expect.
FINAL DECISION


Mom's Deli has a longevity, character and familiarity that makes it special to a lot of people. Plus, the Mom's Special is a great sandwich for the price.
But the LeGrand's Special has more and better meat, and a tasteful amount of sauce. The chip selection is wider. And for basically the same price.
LeGrand's is the winner.