The Joint: Bar Louie 14 Maryland Plaza; 314-678-3385 www.barlouieamerica.com
The Hours: Mon.-Fri. 4-7pm
The Deal: $5 signature martinis, $4 house wine, $3 all drafts -- includes twenty choices from various macro-breweries. Half off select appetizers.
"But," you protest, "it's a chain!" Oh, lighten up already...
The Scene: With the staged décor of a renovated warehouse, the Central West End outlet of the Bar Louie national chain draws in the neighborhood's up-and-coming young professional community. Expect a put-together-looking crowd with fresh-from-the-office button-downs and power stilettos. Despite the hefty throng, two separate bars help ease congestion and service is friendly and attentive.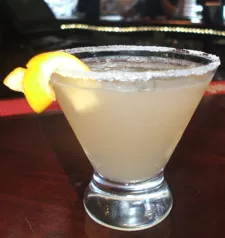 Kristen Klempert
Toot sweet! A Bar Louie cable car.
The signature martinis tend to be on the sweet side of sweet. That said, the Cable Car (Captain Morgan, Patrón Citronge Orange Liqueur, sour mix and cinnamon sugar) packs more of a subtle spice-cake sweetness that's worth trying. The food is typical of a chain: consistent in its mediocrity. A quesadilla was crisp and not overly greasy but could easily be reproduced in your own kitchen.
Why You'll Go Back: The large open space makes Bar Louie ideal for after-work drinks for the entire office. When you get that much-deserved promotion or your firm closes a big deal, this is the place to celebrate. Go ahead -- buy everyone a round.
The Verdict: If you're fresh out of college and fortunate enough to have a stable job, you probably already know about Bar Louie. It has a passably hip atmosphere, but also an uncomplicated and familiar-feeling menu and drink list. As far as chain bars go, it could be a whole lot worse.