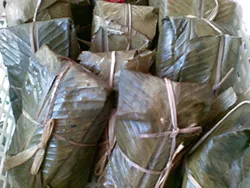 Where are the good tamales hiding?
John writes:
I am a transplant from Seattle and although I love El Maguey's tamale deluxe I would love to try more. So many mexican restaurants refuse to serve tamales. Any help you can give would be appreciated. I even tried Cherokee Street and found none. Please help.

Cherokee Street was a good place to start, John, but for the best tamales in St. Louis, you need to visit the emerging Mexican-restaurant hotspot, the areas south of the airport.
By far, the best tamales I've had in St. Louis are at
Taqueria la Pasadita
(2336 Woodson Road, Overland; 314-428-3832). I reviewed Taqueria la Pasadita two years ago. Here is what I said about the tamales then:
The tamales are the best I've had in St. Louis. Too often tamales are a disappointment. Either the masa has a soggy or

Play-Doh

-like texture from sitting around too long, or the masa has no flavor at all, or both. But the pork tamales at Taqueria la Pasadita fell prey to none of these flaws. The masa had a texture and flavor an awful lot like cornbread -- or, to be more precise, jalapeño cornbread: either because the heat from the pork had leached into the masa, or because there was some pepper tossed into the masa mix, it was very spicy.
At the time I wrote that review, the tamales were available on weekends only. Now, according to the ads the restaurant runs in our paper, they are available everyday.
Readers, where do you like to eat tamales?
Do you have a question for Ian? Email him with Ask the Critic as the subject line.