While scanning the World Cup groups in order to plan our daytime drinking over the next month, Gut Check noticed that most of the great wine-producing nations are represented in the tournament field, including all of those with a reputation for crafting good, value-priced wines. Because Gut Check never saw a value we didn't like, we resolved to stage our own tournament to determine the 2010 World Goblet Champion.
This group will go down to its last match, and both nations here have a chance to stake a claim to the top spot. This time it's a battle of the darling value reds of the past decade: Argentinean malbec and Spainish grenache. Neither contender is pricey, but is either worth drinking? Only one way to find out.
To view all 2010 World Goblet matches to date, click here...
Next: Grape expectations...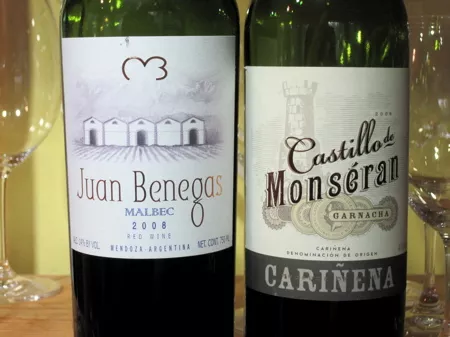 2008 Juan Benegas Malbec Mendoza Argentina ($11) Inky, almost black in color. If you're shopping for berries, this fruit stand is locked up tight. If you held a gun to your nose's head, it might tell you that there's iron in here, and some minerals, and, if you insist, just the tiniest hint of blackberry. The flavor tells the same story. So does a revisit the following day.
Some malbecs suffer from being too fruity. This one's got just the opposite malady. Could this be an $11 wine for the cellar? Or merely, well, fruitless?
2008 Castillo de Monséran Cariñena Garnacha Spain ($8) A light burgundy hue, and clear. A sniff calls forth images of raspberries and spice, simple, but attractive all the same. The flavor is similarly pleasant but restrained. You know you're drinking wine, in other words, but it doesn't punch you in the palate or do some candy-coated impersonation of a Tootsie Pop.
If all inexpensive Spanish grenache tasted like this, we'd drink a lot more of it.
Result: Spain
Overly fruity, industrially produced red wines reeking blatantly of sugar mar too many exports from both Argentina and Spain at the low end of the price range.
While it was nice to dodge that plague, the Spanish entrant actually managed to do so in a pleasing way.
Group A Standings:
| | | | | |
| --- | --- | --- | --- | --- |
| Country | W | L | T | Pts |
| Spain | 2 | 0 | 1 | 7 |
| Portugal | 1 | 0 | 1 | 4 |
| Argentina | 1 | 2 | 0 | 3 |
| South Africa | 0 | 2 | 0 | 0 |