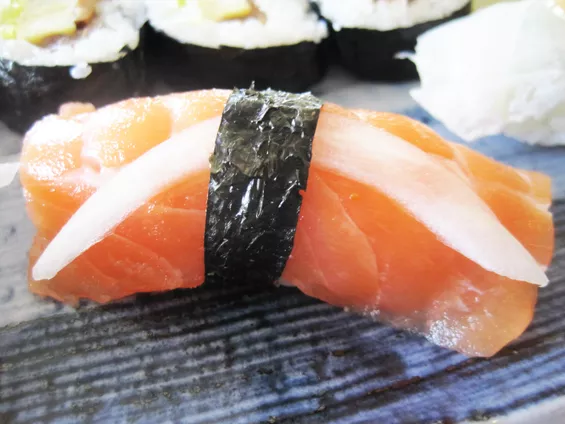 Ian Froeb
The sake (salmon) nigiri sushi at Nobu's Japanese restaurant
Salmon certainly isn't the most exotic seafood at Nobu's Japanese Restaurant. It probably isn't the tastiest, either. But after numerous visits to one of the area's best sushi restaurants, it remains my favorite.
The salmon is impeccably fresh, of course, with a clean, sweet flavor and a texture that, if not as luscious as tuna, still manages that seemingly impossible balance between buttery and meaty. There is a powerful smear of wasabi underneath the salmon, and the rice is properly seasoned.
But the grace note here is the crescent moon of raw onion secured by seaweed to the top of the salmon. It adds textural interest and a subtle punch of flavor. It is also, simply, lovely -- a reminder, in a time when you can grab sushi to go in any decent grocery store, that this isn't merely food but a form of art.
Nobu's Japanese Restaurant
8643 Olive Boulevard, University City
314-997-2303
$2.60
I'm counting down -- in no particular order -- 100 of my favorite dishes in St. Louis. Some are well-known, others obscure. Some are expensive, others dirt cheap. All of them, I guarantee, are delicious. Please do not hesitate to share your own favorites via the comments thread.
Previously:
#71: Massaman curry at Simply Thai
#72: The lunch buffet at Mayuri
#73: Fried chicken (spicy) at Porter's Fried Chicken
#74: Arancini at Lorenzo's Trattoria
#75: Meat shawarma at The Vine Mediterranean Café & Market
#76: The South Side Smoke at sandwich at Stellina Pasta Café
#77: Falafel at Kabob House
#78: A slice with pepperoni at Feraro's Jersey-Style Pizza
#79: Birria at Pueblo Nuevo
#80: Banh mi dac biet at Phuc Loi
Previously (Continued):
#81: Prosciutto bianca pizza at the Good Pie
#82: Gold Coast Chocolate ice cream at Serendipity Homemade Ice Cream
#83: Hot salami (salam de testa) at Gioia's Deli
#84: Veal parmesan sandwich at Biggie's
#85: Nachos (with jalapeños and extra cheese cup) at Busch Stadium
#86: Lobster bisque at Café Ventana
#87: Calamari fritti at Mangia Italiano
#88: Brisket sandwich at Winslow's Home
#89: Paletas at La Vallesana 2
#90: Spaghetti and meatballs at Sugo's Spaghetteria
#91: The Michael burger at Michael's Bar & Grill
#92: Fried egg and ham toastie at the Schlafly Tap Room
#93: Bavarian chips with Welsh rarebit at Dressel's
#94: Onion soup at Brasserie by Niche
#95: Baby-back ribs at 17th Street Bar & Grill
#96: Kingshighway burger at the Royale
#97: Gyro sandwich at South Grand Gyro Express
#98: Carne asada tacos at El Paisano (Watson Road)
#99: Pretzel bites at Joey B's on the Hill
#100: Hot and sour soup at Shu Feng Restaurant