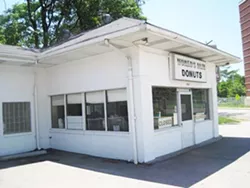 Ian Froeb
A day no donuts would fry.
World's Fair Donuts
(1940 South Vandeventer Avenue; 314-776-9975) is closed today. A sign on the front door says that the iconic St. Louis doughnut shop will be closed "for a few days" due to a car accident.
It's unclear when the sign was posted -- any regulars know? -- but if World's Fair is part of your weekend routine, you might want to call first. We'll let you know when business is back to normal.
Update
: (Monday, 6.28, 9:45 a.m.) Thanks to the two commenters for informing us that World's Fair has been closed since last Monday, June 21.
When I drove by this morning, it remained closed.