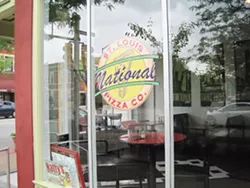 A
thread on the Urban STL forum
piqued my interest this morning:
St. Louis National Pizza Co.
(3201 South Grand Boulevard; 314-772-2285), which opened at the beginning of this month, hasn't been keeping to its posted hours. This is never a good sign for a restaurant, so I ventured down to South Grand to check out the scene.
Turns out, the restaurant is dealing with a medical emergency. Specifically, owner Brian Williams fell ill and required a hospital stay. His son, Nick, is running the restaurant in his absence. (You can read more details on
the restaurant's new blog
.)
A sign on the front door lists the restaurant's current hours as 4-9 p.m. Wednesday and Thursday, 4 p.m.-midnight Friday, noon-midnight Saturday and noon-8 p.m. Sunday. You might want to call first before you head there, though, just in case.