​This is the final installment of Robin Wheeler's Chef's Choice profile of Freddie Holland of Match Foods, Inc., maker of Match Meats. Part one is available here, and part two, a Q&A, is posted here.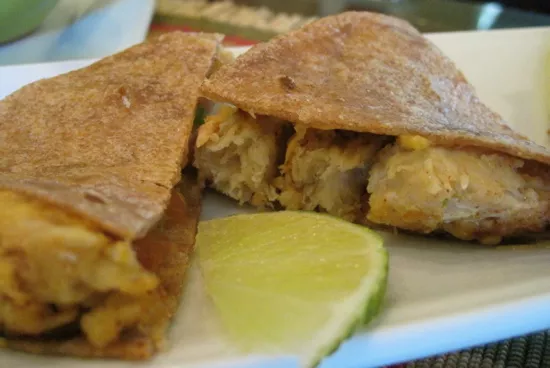 Match Food, Inc.'s executive chef Freddie Holland has spent the past six years developing recipes for the company's Match Meat vegan meat alternatives that aren't just vegetarian-friendly, but a tasty option for omnivores.
He has done such a good job that he even managed to fool himself on one occasion.
"I went to Pi and got the Italian sausage pizza, and I had to bring the waiter over. Our product fooled me. I was like, are you sure? I really couldn't tell. I told my partner to try it and he said, 'I don't think that's Match.' And the waiter's like, goddammit, it's Match!"
When properly prepared, Match mimics the texture of real meat, lacking the gritty sponginess of many meat substitutes. "It gives me the texture, and that's what it's all about," Holland says.
His Vegan "Chicken" Quesadillas can fool even the heartiest carnivore. The chicken, crisp on the outside and toothsome within, provides a hearty base for fresh pico de gallo. Pair with Holland's pineapple-based Rosemary Punch for a refreshing summer lunch that doesn't lack in substance.
Vegan "Chicken" Quesadillas Makes 8 appetizer or snack-size servings
1 pound Match Chicken 2 tablespoons olive oil 8 whole wheat/grain 7-inch flour tortillas 1 cup Mexican blend shredded cheese or vegan cheese 2 medium tomatoes, diced medium onion, diced 1/2 jalapeño pepper, diced fine 1 bunch cilantro (optional) 1 tablespoon chili powder 1 teaspoon ground cumin 1 teaspoon salt 1/2 teaspoon cracked pepper
1. In large nonstick skillet, heat olive oil over medium heat. Add block of Match vegan chicken; cook until well browned, about 4 minutes per side.
2. Transfer to cutting board and cut into quarters. Slice each fourth into 1/4-inch strips; set aside.
3. In medium bowl, mix together tomato, onion and jalapeño. In small bowl, combine chili powder, cumin, salt and pepper, set aside.
4. Wipe skillet clean and place over medium heat. Lightly coat one side of each tortilla with cooking oil spray. Place one tortilla, sprayed side down, in hot skillet. Quickly sprinkle 1/4 cup cheese over tortilla, leaving 1-inch border around edge. Top with 1/4 of the tomato mixture and 1/4 of the sliced Match chicken. Season with about 1/4 teaspoon seasoning mix and cilantro if desired.
5. Top with second tortilla, sprayed side up. Cook for 1 to 1-1/2 minutes per side or until browned.
6. Repeat procedure with remaining tortillas and fillings. Cut quesadillas into 6 pieces each.
Rosemary Punch Makes about a half a gallon of drink base
1 46-ounce can pineapple juice 1 bunch fresh rosemary 1 12-ounce can frozen limeade concentrate Tonic water
For the drink base: Bring pineapple juice to a boil, then remove from heat. Add rosemary and limeade. Let steep overnight in refrigerator.
2. Strain base and use as a mixer for favorite drink. I like to pour a glass half full with base and top with tonic water. You could also mix with Champagne for rosemary mimosas. Nice for a fall brunch or holiday gathering.