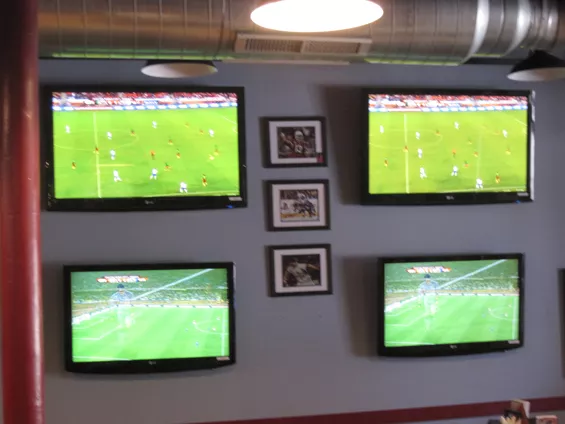 Ian Froeb
Too. Much. Action. at the Post Sports Bar & Grill
Keegan is out of town for a few days. I will try to fill his boots.
Why are the final matches in each group played simultaneously? Not for the entertainment value.
In 1982, unheralded Algeria finished group play with two wins and one loss, including a shocking defeat of powerhouse West Germany. The country would advance to the knockout rounds unless West Germany defeated Austria by a one- or two-goal margin.
Because these final group matches weren't played simultaneously, West Germany and Austria knew the elimination scenarios before kickoff. West Germany scored, after which the two teams essentially colluded not to score again, ensuring that they would advance while Algeria would be sent home. Despite nearly universal condemnation, the 1-0 result stood.
(
Read this fantastic Guardian article for the entire sordid affair.
)
By playing the final group matches at the same time, the chances of this happening again are greatly -- though not entirely -- reduced. And, yes, it often makes for an exciting 90 minutes of football. But oh, God, is it hard to follow simultaneous World Cup games.
This afternoon's games pitted Netherlands against Cameroon and Japan against Denmark. The Dutch had already clinched a spot in the round of sixteen, while Cameroon had been eliminated. Japan advanced with a win or a draw, while Denmark needed an outright win.
Obviously, then, Japan-Denmark was the match to follow at the
Post Sports Bar & Grill
in Maplewood -- especially as the restaurant was quiet, the few soccer fans showing no partisanship -- but with the two TVs right on top of each other, it was impossible not to glance up at the other game now and then and thus risk missing a goal, not to mention losing track of the flow of the game.
In fact, I looked back from Netherlands-Cameroon at the exact moment when Keisuke Honda perfectly bent a free-kick past the goalkeeper for Japan's first goal. This meant that the Danes would need two goals -- no, wait! The Japanese just scored on another free kick!
Oh, look. At some point the Dutch scored. I'd stay to watch the replay, but now the Danes were desperate, which means a wide-open game in which something could happen at any second....
Halftime arrived, sparing my sanity for a few minutes.
Ian Froeb
Cheese fries and hot wings!
Multitasking wasn't quite as difficult when applied to the Post's menu. Yeah, it was gluttonous to order wings
and
cheese fries, but neither by itself would have been an entirely satisfying meal. The wings were hot (but not very hot), and the fries remained surprisingly crisp beneath the cheddar-jack goop.
The second halves started slowly, but around the 60th minute there were nearly simultaneous shots on goal in both games, and my head exploded.
A few minutes later, Cameroon was awarded a penalty kick. I had to watch that, which of course guaranteed that Japan or Denmark would score in their game. Cameroon did score, but I missed nothing in the Japan-Denmark match.
Later, around the 80th minute, Denmark scored on the rebound of a blocked penalty shot. As I watched the third or fourth replay of this, the Netherlands scored. As in the first half, I wanted to see the replay of this goal, except now Denmark had a pulse and, anyway, the Netherlands-Cameroon game was essentially meaningless.
Meanwhile, my two plates were nearly empty. I'd told myself I wouldn't finish all that greasy food, but I'm a nervous eater and following two games at once was making me
very
anxious. Suddenly, as if sent specifically to amplify the guilt building as surely as the plaque in my arteries, an ambulance raced down Manchester Road, its siren blaring. I turned to watch.
When I looked back at the TVs, the Japanese players were celebrating the goal I'd missed.