This is part two of Robin Wheeler's Chef's Choice profile of Freddie Holland of Match Foods, Inc., maker of Match Meats. Part one is available here, and part three, a recipe, can be found here.
Did your family cook when you were a child? If so, what meals stand out? Our family never went out to eat. All of our food was made from scratch, canned from the garden. We also raised our own meat. New potatoes with green beans, ham hocks and corn bread; stuffed cabbage; chicken and dumplings; chicken fried steak with mashed potatoes and milk gravy.
How old were you when you started cooking? Eight.
What was your first kitchen job? Middle-school cafeteria. I was in charge of the salad bar and washed dishes.
Did you attend culinary school or college? I graduated from the Culinary Institute of America in Hyde Park, New York, in October 1990.
What do you eat? I eat five to six small meals a day. Breakfast is a low-glycemic protein shake, followed by small meals throughout the day made up of lots of fruit, some peanut butter, whole-grain bread. Dinner is normally something made with Match.
We'd be most surprised that you eat _____. Someone I work with got me hooked on those Cadbury Eggs. I try to hide them from myself so I won't see them, but I can only get so many in my mouth.
What do you cook at home? I very rarely make anything that does not include our products, and that is only because I am able to make so many things with it. Chicken enchiladas, Italian sausage with broccoli and sun-dried tomatoes, burgers with sweet-potato fries; I love a grilled Match chicken breast with grilled cucumbers and melted dill Havarti. Something about how the flavor of the grilled cucumber meshes with the dill Havarti. Heaven.
Three favorite restaurants in St. Louis? Cork Wine Bar, Shangri-La Diner, the Royale.
Favorite restaurants elsewhere? Chili Addiction at 408 North La Cienega Boulevard, West Hollywood, California. Chef Johnny is the Amadeus of chili. I've never had anything like it.
Your favorite food city? St. Louis, I can't find more Match options anywhere else in the country -- for now.
Favorite recent food find? Hemp seeds, delish.
Most essential ingredient in your kitchen? Match. Can't imagine my options now without it.
Favorite local ingredient and where you get it? Ferguson Farmers' market, all of my vegetables.
Five words to describe your food? "Just happens to be healthy."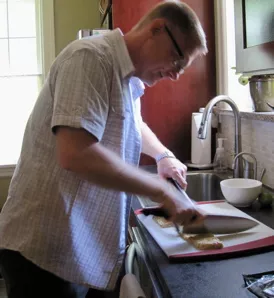 One food you dislike. Microwaved anything.
One food you can't live without. Popcorn and any kind of green.
What's the first rule for your kitchen staff? Have fun.
What ingredient will never be allowed in your kitchen? Never say never.
Your best tip for home cooks? Learn how to cut from a professional. Also, peeling and basic stock preparation.
Your favorite after-work hangout? Home.
One person, dead or alive, you'd love to cook for? I did not know any of my grandparents, so a nice setting for four would be nice.
Favorite kitchen tool. Tongs.
What's next for you? I want to do what I'm doing until I die.
What inspires you? Always surrounding myself with people who are playing on the court in life. They are the ones keeping me off the bench.
Chefs who inspire you? I'm not inspired by someone because they are a chef. I am inspired by anyone who has the balls to do what they love to do.
Favorite cookbooks? Google.
Proudest professional moment? When people go out of their way to get to work with me because they say it is fun. That makes me feel incredible.
Favorite music to have in the kitchen? Swing and big band.
What's on your pizza? Match Italian sausage at Pi.
What's in your omelet? Match breakfast sausage at Chris' Pancake.
What are you drinking? Rosemary punch.
Most difficult lesson you've learned in this business? Not to take jobs based only on the amount of money made.
When did you know for sure that the chef's life was for you? I was looking to do something else when I found Match. When I started creating with it, I realized that a culinary door in the form of texture had been opened that had not existed before. When I wrapped my imagination around what this could mean for cutting-edge menu options, not to mention what it would mean to people like myself on their last plate of pasta primavera or portabella sandwiches. I realized then, I'm going down with this ship or I'm gonna sail it into the sunset. Just bring it on.
{to be continued...}