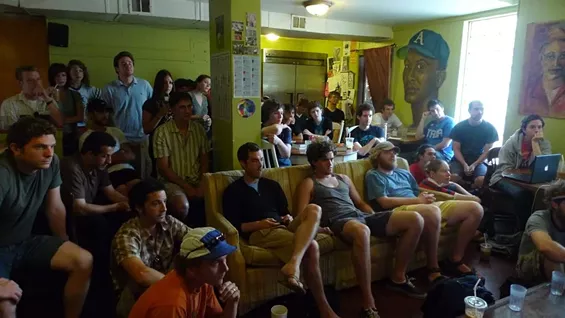 photos by Keegan Hamilton
The crowd at Meshuggah in the Delmar Loop.
For all intents and purposes, this was the end of the World Cup's group stage. Yes, there are still several more matches to be played (Brazil vs. Portugal, anyone?) but this is the only game left that really means something to the citizens of the U-S of A.
Just down the street from RFT headquarters in the Delmar Loop, Meshuggah coffee shop is the viewing venue of choice for this one. They have delicious bagels. They have coffee. They have beer. They have Schlafly Coffee Stout, a combination of coffee and beer.
There's a massive 70-inch plasma screen TV set up upstairs with a couch, some comfy leather chairs and a few scattered tables. It's already packed, though, so much so that this is being typed from a seat on the floor.
For those who chose to sit somewhere in an actual chair or were stuck at the office, here's a running diary of what transpired.
00:00: Herculez Gomez in the starting lineup in place of Robbie Findley. Fans here (and everywhere, probably) approvingly bust out the
Herculez, Herculez, Hurculez
chant from
The Nutty Professor.
3:49: Announcers share that the US has "never so much has gotten a point in a third group game." Thanks for the jinx, guys, sheesh.
5:39: Algeria crushes a short range shot that rebounds off the top crossbar. Massive ohhhhhh! and sigh of relief from the crowd here. Gomez responds with a decent try of his own on the counter-attack but the US seems determined (yet again) to concede a goal early in the first half.
8:41: Meshuggah owner Patrick just pointed out that there's an Algerian in our midst. He's eating a bagel, smiling sheepishly, and saying nothing. He's outnumbered. Someone on the other side of the room jokes, "As long as he's not a Cubs fan he's OK with me."
15:11: Bill Clinton in the stands watching in South Africa. We can't lose!
17:38: Just noticed that there are about 25 people crammed in the upstairs lounge at Meshuggah to watch the match...and none of them are wearing USA apparel. Unless you count a red, white and blue Pabst hipster headband.
20:34: Gooooooooaaaaallllll!!!!!!!!!!!!!!!!!
20:45: Nope. Offsides. Goal disallowed. Unbelievable. Announcers and everyone watching here are incredulous. Seriously, World Cup officials, WTF?
21:39: And the replays confirm that the call was BS. Even the broadcasters seen outraged.
Coffee + soccer = ulcer waiting to happen.
22:17: England now leading Slovenia 1-0. Who do we have to bribe to get their goal disallowed?
24:04: Our first coffee spill of the morning. It was inevitable with this many hands and feet and hot beverages in open containers in an enclosed area.
31:12: Good luck to anyone sitting near the TV who wants a refill on their coffee. There are several walls of people blocking the path downstairs. Very impressive turnout.
34:50: USA counterattack and a great sliding chance for Dempsey but he just couldn't get enough on it and it's easily swatted away. Announcers say the USA crowd in South Africa is "dying a thousand deaths," as they watch. Everyone here nervously laughs in agreement.
36:00: Altidore misses a wide open net on a rebound. Convinced there is an invisible barrier in front of the Algeria goal. Oh wait, we already put one into the back of the net and it didn't count.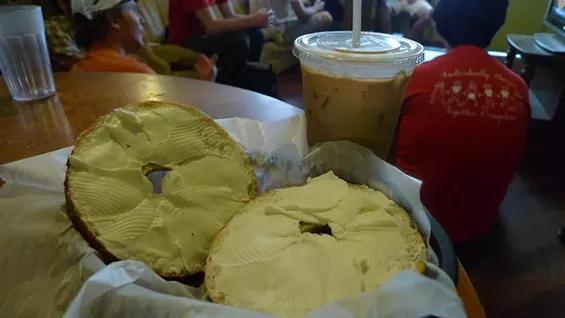 Does the cream to coffee ratio look correct?
Halftime: Just ordered an iced coffee and an everything bagel with cream cheese. Both are tasty but Meshuggah baristas always add the cream and/or sugar to the drinks for you. This place has one of the best ambiances (bohemian crossed with friendly neighborhod joint) of any coffee shop in St. Louis but that's always been a pet peeve of mine. Each person has a different cream/sugar ratio they prefer in their coffee. Why not put out the cream and sugar out next to the other food condiments and let the customers decide?
50:05: ...and we're back. US denies an Algeria header by tugging (hard) on one of the bright green jerseys. A wise no call by the refs. Pretty sure the CIA would have called in a predator drone strike before Algeria could take the penalty kick.
56:19: Clint Dempsey takes a nice pass from Jozy Altidore and misses two shots from point blank range, bouncing one off the post and sending the rebound wide right of the open goal. Announcers read everyone's minds and ask, "Why won't the ball go in?"
61:00: Altidore breaks into the Algerian side, one on one with a defender. After a bit of contact, number 5 for Algeria goes down, grabbing his ankle. He's vying for an Academy Award nomination. The ref books Jozy for a yellow card. Boooo!
63:50: Edson Buddle comes on the field for Maurice Edu. Is there a better name in the tournament than Edson Buddle? He gets bonus points for being named after
Pelé
too.
67:31: Beautiful cross by Landon Donovan. It's headed by Buddle then bobbled and just barely stopped by the Algerian keeper. Are all these scoring opportunities encouraging or frustrating? Right now it seems like the latter...
75:11: Even though they haven't scored (yet) the US is playing their best soccer of the tournament so far. They're controlling the pace and the ball and really looking like a world class soccer team. Of course, if they can't score it amounts to squat.
79:13: After a free kick and a corner, announcer says "The US deserves a goal...but they haven't got it." That about sums it up.
82:08: Altidore on the breakaway gets taken down hard. Yellow card on Algeria...free kick...Dempsey...croses himself...and airmails it way over the goal. Ugh.
89:00: Demarcus Beasley gets called for a yellow card...after he gets knocked down in the box by an Algerian player. Someone at Meshuggah asks, "Is there anyway the refs can be worse this game?"
91: GOOOOOOOOOAAAAAAAAALLLLLLLL!!!!!! GOOOOOAAAALLLLLLL!!!!!!!!! GOOOAAALLLLL!!!!! Landon Donavan!
92:30: Holy crap. Nothing but screaming and high-fiving here.
93:35: Chanting U-S-A! U-S-A! U-S-A! after the Algerian player gets sent off for arguing with the ref.
94:00. Game over. The atmosphere is a blend of relief, shock and joy at Meshuggah. People hugging each other and high-fiving like crazy. Easily the best match of the tournament so far. That was a wild one.
The Algerian guy (named Salem, btw) is just sitting in shock. Asked (as politely as possible) how he's feeling, he says "Eh, it's ok. It was a good match. I support the USA in the next round. I live here."
Now
that
is patriotism.