This is part one of Robin Wheeler's Chef's Choice profile of Freddie Holland of Match Foods, Inc., maker of Match Meats. Part two, a Q&A with Holland, is available here, and part three, a recipe, can be found here.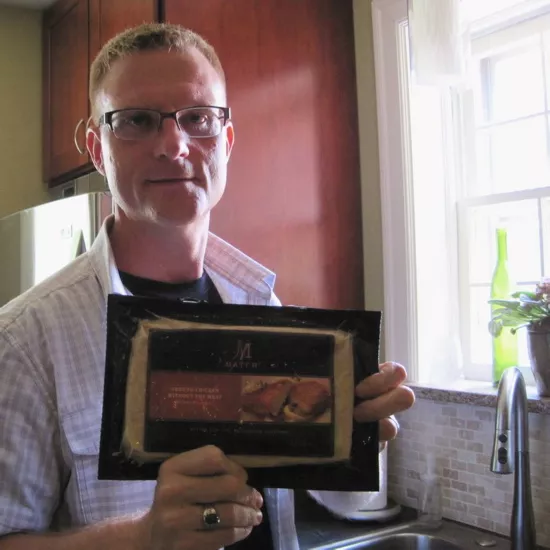 "I was raised on a farm. We raised our cows with bottles, had them for a year and slaughtered them basically in our back yards. Chickens, basically the whole bit. When you're raised in that environment, you have to form your beliefs. The food was placed in front of me. I didn't have a lot of choice," explains Freddie Holland, the executive chef for St. Louis-based Match Meat.
"Then I acquired a taste for it. Saturated fat makes the world go round as far as I'm concerned. I crave it all the time, just like nicotine or alcohol for a lot of people. I don't know how to process that information, still, because I'm not a vegetarian or a vegan. But I make vegan meat."
(To read Aimee Levitt's 2009 feature about the vegetarian meat substitute and Allison Burgess, who founded the company that manufactures it, click here.)
Holland grew up on a farm in Pickneyville, Illinois, which isn't exactly a hotbed of vegetarian activity or gourmet eats. Not that this mattered to Holland, who learned to cook at his mother's side.
"I started cooking with my mom when I was eight years old. I can even remember the day I decided that I was going to be a chef: I was sitting at the table and I had a ball of pie dough in front of me that my mom gave me like Play-Doh. I remember making a conscious decision that this is what I'm good at. I've cooked ever since.
"My mom was very forward thinking. I had an opportunity to go to France my sophomore year in high school. She said, 'Well, you're going. If you're going to be a chef, then you need to see what a chef is.' That was one of the first places I went. My head basically exploded. I saw food as art: This can be art."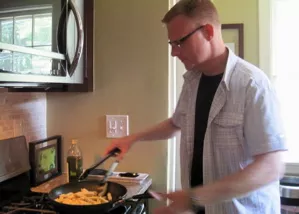 After high school Holland graduated from the Culinary Institute of America in Hyde Park, New York. "I was going to be the chef to the stars. I accepted a position with the senior vice president of Coca-Cola in Atlanta and Fort Lauderdale. I was in charge of all the entertaining, meal planning."
He came to St. Louis to work as a personal chef, then moved to Miami's South Beach to work as the personal chef for the current owner of the Versace mansion. But family crisis intervened.
"My mom took ill, and I quit everything and moved back home. I helped her until she passed. In the meantime I met my partner. I had a home. I had a garden. And I had friends, which is something you can't have when you're living that lifestyle.
"I had the possibility of an interview with [music producer] L.A. Reid in Atlanta, and I refused it. I just said okay, I have to make this work here.' One day I went for a run in Forest Park and I just reinvented myself. I said okay, this is who I am now, and I'm going for it. I didn't know where it was going to lead me, so I basically invented myself as the possibility of creating healthy spaces for people to make healthy life choices for themselves. Whatever that meant, I was going to surround myself with people who had the same possibility."
Not that health consciousness was new to Holland. "I was an obese child, so maybe I can tackle the childhood-obesity thing," he laughs.
That endeavor didn't go as planned; most of the kids he worked with didn't have the support system he had as a teen, when he and his father changed their eating habits and lost a hundred pounds apiece.
"Parents are dropping kids off, wanting them to lose all this weight and adapt this healthy lifestyle, but they don't want to do it themselves," he says.
Holland has maintained his weight through years of healthy eating. "I would do all of these elaborate, fancy parties and food offerings, and I was serving food that I couldn't eat myself," he says. "That gets old after a while. It wasn't until I started working with Match that I was reborn. I can make these things that were taboo, that I couldn't eat any more, that I still crave, like Italian sausage."
He discovered Match while making brunch at the World Café. "I didn't realize I was attracting a lot of vegetarians, and it really irked me that they couldn't eat this thing that I put my blood, sweat and tears into. So I started investigating the alternatives, which I'd never messed with. You couldn't make a recipe with what was on the market, and the texture was terrible.
"Then somebody told me about [Match creator] Allison Burgess and what she was doing. I found her, I got ahold of her chicken and beef, and I started playing with it. When I saw it, I immediately wanted to make sausage like we did down on the farm. I was making breakfast-sausage patties out of a mixture of the beef and chicken.
"What really got me was, I put it on the buffet and I realized that whatever I made with Match, it would appeal to people. They weren't eating it because they were vegetarian. They just ate it because it was good." Soon he was working full-time with Burgess.
"We developed two sausages and started going into restaurants and enrolling chefs into creating these meat-free options that would appeal to meat eaters, which was a hard sell in the Midwest," he recounts. "I knew if I could get my foot in the door, the chefs would see what I saw. Gradually we got on enough menus that Whole Foods Markets called us, because enough people were going to Whole Foods and asking for it."
As demand grew, Holland and Burgess worked to develop vegan versions of chicken, crab, pork, and beef, as well as recipes to go with the products. They've also branched into other items, allowing Holland to draw on all aspects of his culinary curriculum vitae.
"Four years ago when I would demo during the holidays, so many people would come up to me and say, 'Blah blah blah's coming home from college and we're having a special occasion and I don't know what to make.' I kept hearing that so many times, I got sick of it. I made up our holiday roast, and took my mom's dressing recipe from the farm, but used our breakfast sausage in it. I was like okay, this is good! Then we came up with a turkey flavor, and I formed it around the stuffing and we came up with the holiday roast. I said, we have to do this, just for the holidays. Allison didn't know. I talked her into it. Gradually it was a big hit.
"We didn't do it one year. Whole Foods called us the next year and said, 'You have to do this roast, because people were pissed.' And I was like, yes! I took it to LA last month and it blew them away. They ordered 900 of them, so that's exciting."
As Match expands into bigger markets, Holland's career continues to evolve.
"Allison gives me a lot of space in the company to do many, many different things," he says. "I never feel like I know what I'm doing. It used to drive me crazy until I just sat back and said, I have to be okay with not knowing what I'm doing, and go on. It all works out. I decided to make it fun. It's kind of like playing chess. As soon as I made that transition and stopped taking it so seriously, it became a lot more fun. I'm having a great time, and that's worth so much more."
Away from Match, he shares a rehabbed 1940s bungalow in Ferguson with his partner and their rescued German shepherd mix. The rehab included merging the kitchen and dining room to give Holland the party space he wanted.
"I remember my mom loved old movies. I would sit there and watch Doris Day, and all those movies where they wore the tea-length dresses and had fancy parties. And I was glued. I gravitated toward the table and what they were doing. I knew I was interested in that to the point that I would make napkin folds with our paper towels for dinner, and I would make hors d'oeuvres and pass them to our family members. When I was little, I'd have hors d'oeuvre parties.
"My passion was always entertaining. I love to entertain. I love every aspect of it. I like to come up with the menu. I like to do the food. I like to do the flowers. I like to do the place settings. Every bit of it. I like to sit back and watch it happen. I don't think there's anything more beautiful than a well-set table in an elegant room that's just been served, with steam rising off the table. I just think it's beautiful.
"I don't know how I got that passion, coming from a cornfield."
{to be continued...}