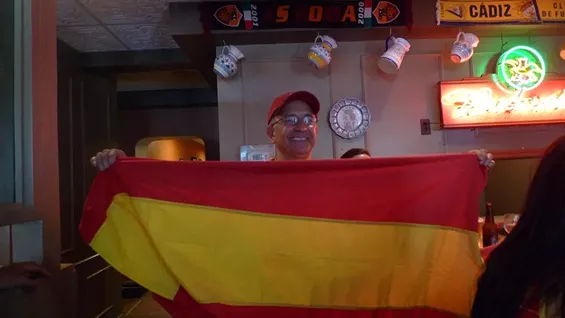 photos by Keegan Hamilton
This Spain fanatico says, "¡La sangre de España es bueno!"
Spain is a country of simple pleasures. There are three, in particular, that define the nation: eating, drinking and fútbol -- and not necessarily in that order, either.
For the closest thing to the authentic Spanish experience in St. Louis, visit Guido's on the Hill.
Though the name says Jersey Shore, the owners are from Madrid and have a portion of the restaurant decked out with a collection of scarves from Spanish soccer clubs, including a vintage red and yellow one for the national team emblazoned with the motto "¡A por ellos!" --
After them!
-- stretched above a giant flat screen TV behind the bar.
They didn't open early for Spain's 9 a.m. disaster against Switzerland, but for today's game and Friday's critical match-up against Chile, Guido's has some sweet specials going. The best deals are half-price house sangria and buy one get one free tapas.
Two can't-miss, classic tapas are tortilla Española and jamón serrano. Both were winners here. The tortilla, not to be confused with the Mexican taco holder made from corn, is a thick egg, onion and potato omelette. Guido's version came lightly browned on the outside and with the rich, creamy texture that can only come from heaps of butter in the recipe. Three thick wedges came piled on a small plate, with a sprig of parsely and kalamata olives for garnish.
Jamón serrano, for one or twelve people
The jamón, meanwhile, was a massive arrangement of thin slices of cured ham on a platter. Ordering jamón tapas in Spain generally gets you one slice of ham on a small piece of bread. Catering to the American appetite, Guido's dished out at least a dozen razor-thin slices of meat and a basket of sesame-crusted bread slices. The slightly bitter bread was the perfect contrast to the luscious, rich ham.
The bartender (wearing a Russia jersey that earned him endless grief) made each glass of sangria by pouring the wine/brandy combo from a Carlo Rossi-sized jug (there was no Rossi label, though) and muddling the mix with the fruit. It was sweet and potent and the perfect tonic for the stifling heat outside.
A giant jug of sangria. It makes your vision fuzzy, doesn't it?
As for the soccer, Spain finally played up to their endless potential, relentlessly attacking the goal and flicking passes around the Honduran defenders like they were playing keep away. The Spaniards (and Spain supporters) in attendance loved every minute of it. (Well, except for the minute David Villa missed penalty kick and missed out on a hat trick.)
Guido's owner worked his way up and down the bar before kickoff, telling everyone in his husky, heavily accented English to please keep the "bad talk," or cursing, to a minimum. The stressed out smoker
from the Amsterdam Tavern
cheered madly on
David Villa
's two brilliant goals, though he looked almost more relieved than satisfied with his team's performance.
Early in the second half, Spain defender
Gerard Piqué
took a boot to the face from a Honduran player and
spat up blood
on the field. Trainers stuffed gauze in his lower lip and sent him back onto the pitch. To the delight of a little old lady in a St. Louis Spanish Society, an older fan decked out in a hat, jersey and Spanish flag shouted, "¡La Sangre de España es bueno!" --
Spanish blood is good!
To cap off the afternoon and celebrate Spain's victory, Guido's gave everyone in the bar a drink on the house. Naturally, the toast that made the sangria glasses clink was to Spanish blood.