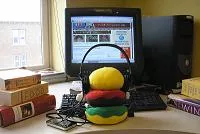 Gut Check dishes on our favorite St. Louis food blogs.
STL Hops: Mike posted a new Friday STL Beer Round-Up.
A Veggie Venture: Alanna made Weight Watchers Spinach Dip.
Cupcake Project: Stef made Granola Upside Down Cupcakes.
Bruno's Dream: Bruno posted a Garden Update.
Feast: George reported that a former Ladue Starbucks is becoming Deer Creek Coffee.
Iron Stef: Stephanie made Salmon with Cilantro Gremolata.
Kaldi's Highlander Blogg: Mike shared news of a Latte Art Competition taking place next week.
Off the Menu: Evan reported that Fond's Amy Zupanci has launched a Farm Dinner Series.
One Hot Stove: Nupur made Corn Pepper Chowder and Jam Bars.
Sauce: Ligaya reported that The Ritz has opened The Bakery in Clayton.
Sounding My Barbaric Gulp: Kelly made Asparagus with Poached Egg & Miso Butter.
St. Louis Eats & Drinks: The Pollacks visited Peppe's Apt. 2.