photos by Keegan Hamilton
Tam Tam owner Kassim Kone (left) and some of the Ivory Coast contigent
Tam Tam African Restaurant
is an inconspicuous storefront next to a liquor store in one of the countless strip malls that line North Lindbergh Blvd in
Florissant
. On a sweltering Sunday afternoon, the parking lot is empty save for six cars, all with their windows left substantially cracked to keep the interiors a few degrees below broiling.
The restaurant is dim inside, with all the shades drawn against the heat. There's a modest dining room, decorated with drawings of head-scarved African women pounding manioc into
fufu
, but all the tables are empty. Eight or nine extremely dark-skinned guys are crowded into the bar area, some sitting on a three-foot tall dividing wall in lieu of bar stools. They're all chattering rapidly in French and focused on a flat-screen TV tuned to the pre-game show for the World Cup match between Ivory Coast and Brazil.
The first words they say in English to the solitary pale-faced customer are, "You rooting for Brazil?"
They settle for an answer of impartiality at first but soon start cajoling the visitor to turn his allegiance to Ivory Coast, the country whose green and white-striped jersey a few of them are wearing. They call it Cote D'Ivoire, proncouncing it coat-DEEV-wah with their heavy African accents.
Tam Tam owner
Kassim Kone
hails from Senegal, another French-speaking West African nation, but he's pulling hard for Ivorians. He's explaining to a mustachioed man in a suit why the country has a chance against the powerful Brazilians. "There are no small teams anymore," he says. "These guys all play for big clubs in Europe. They can win."
The suit-wearer, who turns out to be from Ghana, replies, "Yes, but Brazil is still Brazil," and everyone nods silently in agreement.
The game starts off with Ivory Coast controlling possession but lobbing impotent shots at the Brazilain keeper. The Ivorian fans, sipping shots of hot murky brown liquor out of a little teapot, are extremely animated, gesturing wildly and shouting in French. It's easy to make out some phrases, such as "se bon" on good plays and "le foot," their word for soccer, but most of the conversation is indecipherable.
Délicieux: chicken curry with couscous.
Lunch is a curried chicken leg, which comes swimming in a smoky, dark brown sauce steeped with chunks of carrot and manioc. A massive, oval-shaped dish of couscous is served on the side. The best part of the meal is dipping each bite of sauce-soaked chicken and vegetable into the couscous to make a sort of improvised breading that does wonders for both the dish's taste and texture.
Brazil takes the lead early when
Luis Fabiano
clobbers a perfectly threaded pass from
Kaka
past the Ivorian keeper at close range. While all the men sulk, silent for the first time all afteroon, the young waitress throws up her hands in excitement. She says she's from Tanzania and would normally root for the Africans but "Brazil is my team." A few moments pass and the guy from Ghana declares "I'm switching to Brazil," and everyone laughs and then boos and then laughs again.
Brazil's Fabiano scores again but replays show that this time he used his arm to bring down the ball. The Ivorians, almost in unison, shout "merde!" and curse the referee. After another Brazilian goal, this one by
Elano
, a stubble-cheeked guy in a gold Ivory Coast jersey sitting at the bar declares that a comeback is "une impossibilité."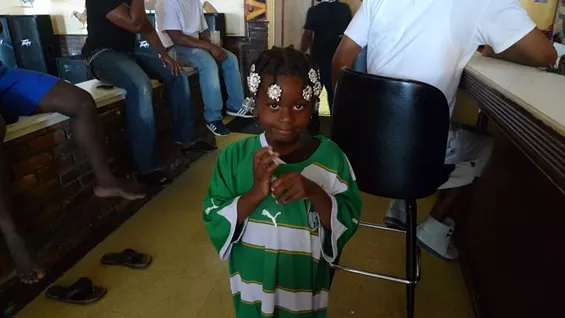 This Little Ivory Coast fan didn't understand why everyone was yelling after goals.
The African team produces a glimmer of hope when their star
Didier Drogba
heads in a goal in the 79th minute. Everyone shouts so loud in excitement that a little girl in a dress-sized Ivory Coast jersey starts crying from the noise.
The rally is short lived, though, and the match starts to get chippy. Brazil's Kaka elbows an Ivorian player in the chest and the soccer equivalent of a bench-clearing brawl ensues. Kaka gets ejected and the waitress starts talking trash with Kone, saying his team just cost Brazil one of its best players.
"You know
what 'kaka' means in French?
" Kone responds with a big grin. "It's not good."