This the Q&A portion of Robin Wheeler's profile of Jennifer Pensoneau of JFires' Market Bistro. Part one can be accessed here. Pensoneau's recipes for suckling pig and cherry cobbler are available here.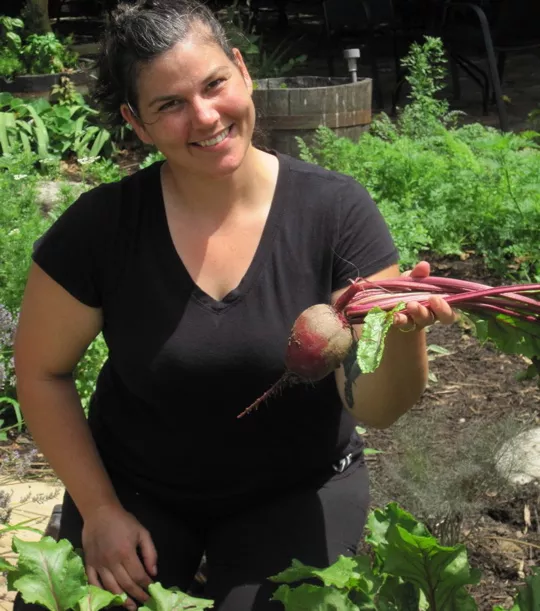 Did your family cook when you were a child? If so, what meals stand out? Oh yeah, we cooked. The most significant one to me is when my dad made shrimp and okra gumbo. I thought it was absolutely amazing. I remember cooking the okra forever, it seemed. When the final product was finished, it had so much flavor. And an unusual one; one I had never tried before.
I soon went to Louisiana and had my first shrimp and okra gumbo in the South and found out that Dad's was the real deal. It made me proud of my dad for going out on a limb and trying and sharing new ideas with us.
The best memory of homegrown food is my mom's sauerkraut. Wow, there is nothing that can compete with sauerkraut made in a crock pot. My mom and I would shred head after head of cabbage. Mix in a enormous crock pot and set it with towels and bricks on top. Every day we would skim the top and change out the towels until it was ready to jar. Yum! I am in the process of making it again!
How old were you when you started cooking? My first memory of actually feeling productive in a kitchen, I was around eight or nine, in the basement of the church kitchen helping all the ladies prepare for the church picnic. My duty was to help with slaw and potato salad. My fiancé's mom was the first lady, besides my mom, that I stood next to to cook. They had a farmhouse and supplied the town with chickens and eggs. The best chicken around, also the best chicken-and-dumplings and pan-fried chicken around. I think people always look at their past, but it's not until you live that you realize the impact it had on you.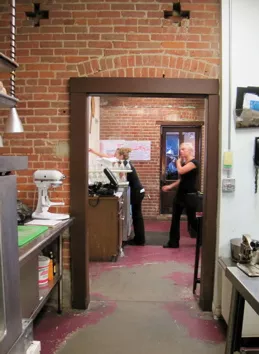 What do you eat? Well, everything! I tend to go towards grains and legumes -- quinoa, barley, rice, lentils, any beans or peas, fava beans and English peas are my favorite. I make a big batch and toss them with olive oil, garlic, nuts and dried fruits and eat that for breakfast and lunch, I'll add vegetables, meat or seafood on the side. On the meat side I like the hanger steaks, London broils, flank or [flat-]iron steaks and rib eyes. Anything with lots of flavor. Seafood -- my favorite is shrimp, then crab, then any fish with flavor, escolar, monkfish.
We'd be most surprised that you eat _____.. Candy. I'm a sugar junky. I know, it's terrible.
What do you cook at home? I went through two years when I renovated and opened [the restaurant] when I didn't cook anything. Very depressing, but I finally in the last two weeks have been able to cook at home. And I made grilled oyster mushrooms with olive oil, garlic and herbs; fava beans with stewed tomatoes; and a grilled marinated iron steak. The next day I made scrambled eggs with tomato and fava beans, some pan-fried potatoes and the leftover steak.
Three favorite restaurants in St. Louis, besides yours? Terrene, the sushi restaurant on the corner of Grand by Tower Grove Park [Sekisui], and.... Wow, that's hard, because there is a long list of restaurants I want to try and am sure will be favorites -- like Erato on Main, Fond, Niche, Scape, many more.
I don't know if I have favorites to food or food places. Every place I have been has had their own share of amazing food. I love all food and culture. They are all unique and special in their way.
Favorite recent food find? I did find an awesome Vietnamese restaurant, Truc Lam. I love Vietnamese po-boys.
Most essential ingredient in your kitchen? Eggs and flour.
Favorite local ingredient and where you get it? Honey from Kruse Gardens.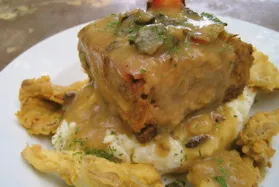 Five words to describe your food? Comfort. Nutritious. True to form. Simple. Tasty.
One food you dislike. I haven't came across a food that I disliked, but I haven't tried them all yet.
One food you can't live without. Can't live without tomatoes.
What's the first rule for your kitchen staff? No water near the wood-fired oven. No wasting anything, and use it before the quality is low.
What ingredient will never be allowed in your kitchen? No base will ever be in my kitchen.
Culinarily speaking, St. Louis has the best ______. Means to get fresh ingredients and the best ingredients from the world.
Culinarily speaking, St. Louis has the worst ______. Seafood choices. Not much diversity in the seafood. But look at where we are, and it is starting to change. I think we can have the best seafood. Just need to get it here.
Culinarily speaking, St. Louis needs more ______. Open markets for produce and seafood -- and people to use them.
Your best tip for home cooks? Know your ingredient and know the technique to use it. Learn about one item at a time. It will make it less overwhelming.
Your favorite after-work hangout? Home is my favorite after-work hangout. I'm the person that does the underground dinner parties with old and new friends. We did that all the time in New Orleans, and I miss it. Not that I don't want to do it here. I have to get my restaurant stable, then I might jump back in. I was just thinking of that the other day -- how I can't wait to feel the excitement of good food and good friends in my own home.
One person, dead or alive, you'd love to cook for? I would love to cook for my grandmother. I can't count how many excellent meals she cooked for me, and she wasn't able to let me cook for her. But then again I don't know if she would have let me. She would say I need to not bother myself and she will do it. Glenita Pensoneau would grab burning-hot pans with her bare hand and not bat an eye. She set the grounds for never giving up and never letting anything stop you, especially because of your sex. She was the first lady on the Belleville school board. I now know why I was so determined to conquer in the kitchen. Doesn't matter if it normally is all men; you can do it.
Favorite kitchen tool. Six-and-a-quarter-inch chef's knife.
What's next for you? Produce farm, banquet center in barn, setting up global connections to send my employees.
What inspires you? The fact people can eat homegrown food at my restaurant.
Chefs who inspire you? I'm old school. I like the classic French chefs. You can never study enough classic dishes.
Proudest professional moment? Opening JFires'.
Favorite music to have in the kitchen? Death metal.
What's in your omelet? Ham and cheese.
What are you drinking? Carrot juice.
What's the most surprising food you've eaten? Monkfish liver. It is delicious.
What's the best request you've gotten from a customer? To make steak tartare at 2 a.m. in the first couple months that I opened. It was awesome. They were talking about it at the bar, and I went to the kitchen and came back out with some tasty tartare.
Most difficult lesson you've learned in this business? You will not please them all.
When did you know for sure that the chef's life was for you? When I was fifteen and working at Lisa's. I loved it!
JFires' Market Bistro 725 North Market Street, Waterloo, Illinois 618-939-7233