Gut Check's Week in Tweets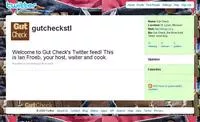 Starbucks finally caves, to offer free "one click" Wi-Fi: http://bit.ly/aVUcgK
Via Eater, Hooters donating waitresses' used pantyhose to help Gulf oil cleanup. http://bit.ly/cIecmu No, really. Not a joke.
Are The 10 Riskiest Foods Worth the Risk? http://bit.ly/dyDNpn
Chef's Choice Profile by @poppymom - Jennifer Pensoneau of JFires' Market Bistro http://bit.ly/97IVUT
World Cuppage: Switzerland 1 - Spain 0; Coffee and Cigarettes at the Amsterdam Tavern - http://bit.ly/cyU3g4
Support Local Journalism.
Join the Riverfront Times Press Club

Local journalism is information. Information is power. And we believe everyone deserves access to accurate independent coverage of their community and state. Our readers helped us continue this coverage in 2020, and we are so grateful for the support.

Help us keep this coverage going in 2021. Whether it's a one-time acknowledgement of this article or an ongoing membership pledge, your support goes to local-based reporting from our small but mighty team.

Join the Riverfront Times Club for as little as $5 a month.