This is part one of Robin Wheeler's Chef's Choice profile of Jennifer Pensoneau of JFires' Market Bistro. Part two, a pair of recipes from Pensoneau, is available here. The profile concludes with a Q&A, which you can read here.
"Every single person I knew growing up in Prairie du Rocher -- granted, 600 people -- every one of them has a garden and eats out of the garden. Growing up I didn't even know fast food existed. I was clueless to it, because everything we ate was raised there. We processed it at the house."
Such was life for JFires' Market Bistro owner Jennifer Pensoneau, who returned to Waterloo, Illinois, the "big town" closest to her old Prairie du Rocher stomping grounds, and found a surprisingly warm welcome to her ideas of fresh, local food.
"The goal was to bring food that I grew up with, and the way we did it, into a restaurant setting," says Pensoneau. "I've gotten a lot of flak from people saying there's no way you can make it that way. I invite anyone to check into our kitchen, because it can be done. There's no reason why we have to constantly eat frozen, chemical-laced food."
Pensoneau's vision is housed in a farmhouse almost 200 years old, where it defies its fast-food neighbors -- McDonald's across one street, Arby's across another. Pensoneau tends a small garden off the patio; a huge one at her nearby home supplies the restaurant with the bulk of its produce.
"The broccoli came out of the garden," she says, motioning to the specials board in the dining room. "The cherries I picked the other day. This is the first time we've gotten cherries off this tree. Usually the birds get them first. But for some reason, this year they let me pick."
Poor birds. They wouldn't appreciate the beauty of JFires' individual servings of cherry cobbler with homemade ice cream, anyway.
"All of the lettuce is from the garden. It's worth it when people say, 'Where does she get this lettuce? Because it's really unusual and flavorful.' Oh, I just picked it this morning. That's what really satisfying in all of this."
Pensoneau's beliefs about food formed early and were reinforced when she studied Italian Culinary Institute for Foreigners while completing her bachelor's degree at the John Folse Culinary Institute at Nicholls State University in southern Louisiana.
"Growing up as a farm girl, I didn't know any different. Getting into high school and on to college, I started realizing how people eat. You can go through a drive-thru and never cook a meal.
"Then I went to Europe, and I realized that they still have the bakery. The butcher shop is still there. They didn't have a Walmart. I started really missing the simplicity. The specialty items, when you have someone who just works on the bread and the baking."
While working in a restaurant in Tuscany, she learned that food serves as a universal language. "I didn't know Italian. They didn't know English," says Pensoneau. "That's when I realized that food is food. It's not supposed to be hard. Every food has the right techniques whether you're in Italy, Japan, the States. If you know those techniques, you can work anywhere in the world. That's when it became clear, because I had no clue what they were telling me to do. I just saw the ingredients in front of me and guessed my way through it.
"It all worked out and they wanted me to stay," she laughs. "That was the best."
While the food in Louisiana and Italy might have been different from what she made during her first job at Lisa's Bar and Grill in her hometown, the sentiment was the same. A decade after leaving Lisa's for Louisiana, Pensoneau is engaged to marry one of her former regulars.
"He laughs about it now. He says, 'Jen, you were serving hamburgers to truck drivers and to people who were drunk half the time, and you always acted like you were serving it to the pope or to the president himself.' He really noticed it. I think if you're not like that in your job, then you should find another one, because you've got to be happy in it."
Between school and Italy and her return to Illinois, Pensoneau immersed herself in the New Orleans culinary scene, working at Ralph's on the Park under chef Gerard Maras.
"He's a purist, which is what I like best about him. We didn't have food coloring. We didn't have base. If it didn't come from food, then we shouldn't be working with it. I loved that concept. That was exactly where I was at and he was able to teach me. "I started as a line cook -- just the basic working in the pantry or salad station. Then within six months I was Chef One. I really moved up quick and fought my way through the kitchen. I came in early, off clock, kind of booted people off station. A lot of people didn't like me, but that wasn't going to stop me from what I wanted to do. And I knew right off the bat that Gerard knew more stuff than I probably would ever know. It didn't matter how hard, or how many names he called me, I'm going to learn everything you know and that's just the way it's going to be. It was a lot of fun."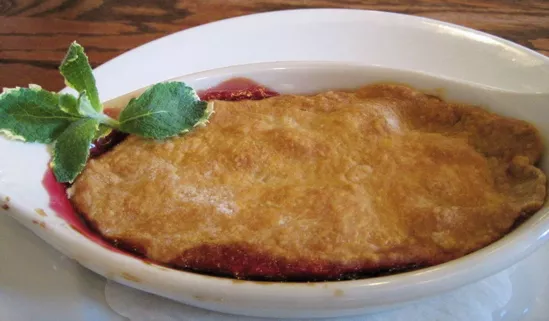 After two years at Ralph's, Hurricane Katrina wiped her out. She returned home and worked at Terrene for a few months, until Maras offered her the sous chef position at the now-defunct Table One. She spent another year and a half working for him before being called back home.
"I wanted to do more. I was kind of stuck. After four years of working with somebody, you learn a lot, but you get into that lull area, so I was looking for something else to do."
An old friend in Waterloo told Pensoneau the local high school was starting a culinary program. She applied, but it didn't happen.
"She was also the one who said, 'Remember the Waterloo Winery? It's for sale and you really should do something with it. I need your food around here.' At that point my dad came up to me and had it in his mind already that he wanted me to do a shrimp shack. I think it was a trick to keep me home. Which I'm grateful for now."
With time on their side, Pensoneau and her parents, Jack and Candee, took their time purchasing the property and developing the concept and business plan that would shape JFires'. "I had to live with my parents, which is something I don't think anyone wants to have to do," she laughs. "But that's another thing that I wouldn't change for anything. It gave me the opportunity to get my stuff figured out."
In that time her dad's shrimp-shack idea was re-formed by what Pensoneau had learned about food that's fresh, local and simple.
"The more I thought about it, I thought now or never," she says. "And now was really the perfect time. I thought it might be a little early for here, but I was dead-on. The concept was something everyone wanted.
"As a chef, dealing with food my whole life, it was important to me that, if I'm going to be doing this and I'm going to be working constantly, why start with a product that's not worth walking into this restaurant with? 'Oh the economy, and I had to downsize and give up quality.' That doesn't make sense to me. I'm going to plant more in the garden. I'm going to get more in there so I can supply better, and supply quality. It just makes sense to me. I can't see myself doing it any other way."
And it has worked. Since opening in early 2009, JFires', with Pensoneau's Louisiana friend John Sewell running the kitchen, has developed a word-of-mouth following that's making Waterloo an unexpected dining destination.
"It's amazing how we have regulars and we've only been here a year and a half. I feel that we've been here and been a part of the community. In a way I've been a part of the community because in [Prairie du] Rocher we went to Waterloo to get our big groceries. Waterloo always seemed like a part of my home."
{to be continued...}
JFires' Market Bistro 725 North Market Street, Waterloo, Illinois 618-939-7233