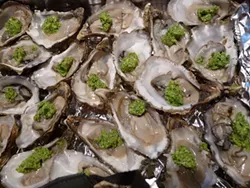 The
Center for Science in the Public Interest
has released a new report ranking
the ten "riskiest" foods regulated by the FDA
(link PDF) based on the number of outbreaks linked to each particular food. Those who have followed all the salmonella, E. coli and other outbreaks of the past few years won't be surprised to find leafy greens at the top of the list, but other culprits -- potatoes? -- might shock you.
(For those wondering "Where's the beef?", the USDA, not the FDA, regulates meat.)
Nearly all of the ten foods are staples, and the few that aren't everyday items are by no means exotic. But are any of them worth the risk of the runs, organ failure or even (gulp) death?
We've crunched the data in the Gut Check International Headquarters supercomputer, and after the jump, we issue a verdict for each of the ten riskiest foods:
Avoid
,
Proceed with Caution
or
Chow Down!
1. Leafy Greens (363 Outbreaks)
"Eat your greens!" Mom always said. Or was it Popeye? More to the point: Would Mom or Popeye have been so insistent if they'd known we'd take bagged, "triple-washed" greens for granted and thus risk swallowing E. coli with our ranch-dressing-soaked dinner salad? Yeah, greens can help you kick Bluto's butt, but take the extra couple of minutes to wash them first.
Verdict: Proceed With Caution
2. Eggs (352 Outbreaks)
Gut Check has no actual proof to back up this claim, but we're going to blame the high number of egg-related outbreaks on hollandaise sauce. It's just vile, OK? Otherwise, eggs rule. One piece of advice, though: If your egg yolks are yellow, not orange, you need to find better eggs.
Verdict: Chow Down!
3. Tuna (268 Outbreaks)
Who's sorry now, Charlie? Apparently, tuna -- especially fresh tuna -- puts you at risk for something called scrombroid, which just sounds like a disease you need a topical cream to cure. (You don't.) At the very least, tuna's presence on the list might scare off some diners who would otherwise chow down on the wildly overfished bluefin.
Verdict: Proceed With Caution
4. Oysters (132 Outbreaks)
Actually, you don't have to worry about oysters for a while. Thanks, BP.
Verdict: Avoid

5. Potatoes (108 Outbreaks)
The report notes that potato outbreaks were linked to potatoes "often in the form of potato salad." Is it really fair to blame potatoes for bad potato salad? Might there be something else often used to make potato salad that could cause an outbreak of, say, salmonella? No? OK then. No more potatoes for you.
Verdict: Chow Down!
6. Cheese (83 Outbreaks)
No joke here: Soft cheeses like Camembert (pictured) can carry Listeria bacteria, which can cause pregnant women to miscarry.
Verdict: Proceed With Caution.
7. Ice Cream (74 Outbreaks)
From the report: "The largest ice-cream outbreak in history occurred in 1994, when a popular ice cream manufacturer used the same truck to haul raw, unpasteurized eggs and pasteurized ice cream premix."
Transportation logistics: Giving ice cream a bad name since Clinton's first term
Verdict: Chow Down!
8. Tomatoes (31 Outbreaks)
Again, no actual proof, but Gut Check is certain that most of these cases are physical repulsion upon eating another damn pale, flavorless supermarket tomato.
Verdict: Proceed With Caution
9. Sprouts (31 Outbreaks)
Man, sprouts just suck. They look like something that gets stuck in your hair on a breezy spring day, they taste like crap, and, apparently, they can spread salmonella. If we could rerank this list based on propensity to cause soul-withering malaise, sprouts would be #1 with a bullet. Screw you, sprouts. Screw you hard.
Verdict: Avoid
10. Berries (25 Outbreaks)
Berries? I mean, come on. They're
berries
. Sometimes sweet, sometimes tart, always luscious. What could go wrong? Unless, of course, the FDA is talking about
Frankenberry
. That pink freak carries all manner of what they used to call the social diseases. Seriously. There's a reason Count Chocula and Boo-Berry don't hang around with him anymore.
Verdict: Chow Down!
Disclaimer: Gut Check's verdicts have no basis in scientific fact -- or fiction, for that matter -- and are not meant to guide your dietary choices. Also, Frankenberry probably doesn't carry any STDs, but you should always use protection, just in case.