This is part two of Robin Wheeler's Chef's Choice interview with Marilyn Scull of Ann & Allen Baking Company and Park Avenue Coffee. To read part one, click here. Part three, a recipe, can be found here.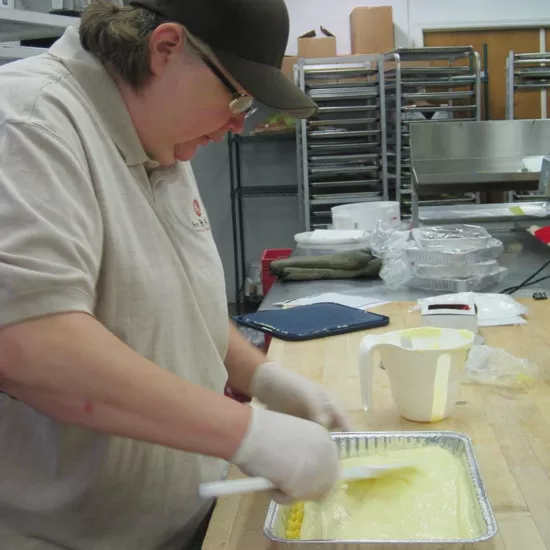 Robin Wheeler
Time to make the...gooey butter cake!
Did your family cook when you were a child? If so, what meals stand out? Yes, baking with my mother, making gooey butter cakes. My Aunt Pat's banana-cream pie.
How old were you when you started cooking? It is something I have always done. I can't really pinpoint a specific age.
What was your first kitchen job? Burger King.
Did you attend culinary school or college? No. I learned by observing my mother and others, and by trial and error.
What do you eat? Just about anything besides fish.
We'd be most surprised that you eat _______. Calamari.
What do you cook at home? I usually grill pork steaks.
Three favorite restaurants in St. Louis? Eleven Eleven Mississippi, Square One Brewery and Feraro's Pizza.
Robin Wheeler
Gooey butter cake (before)
Your favorite food city? St. Louis, of course.
Most essential ingredient in your kitchen? Real butter.
Five words to describe your food? Fun, sweet, easy, home and delicious.
One food you can't live without. Pizza.
What's the first rule for your kitchen staff? No question is a dumb question.
What ingredient will never be allowed in your kitchen? Margarine.
Culinarily speaking, St. Louis has the best _______. Variety.
Culinarily speaking, St. Louis has the worst _______. Amount of chain restaurants.
Robin Wheeler
Gooey butter cake (after)
Culinarily speaking, St. Louis needs moreLocal mom-and-pop places.
Your best tip for home cooks? Don't be afraid to experiment.
Your favorite after-work hangout? Home.
One person, dead or alive, you'd love to cook for? Julia Child.
Favorite kitchen tool. Spatula.
What's next for you? Boxed mix gooey butter cakes.
What inspires you? Feedback from customers.
Favorite cookbooks? Better Homes & Gardens, and a lot of family recipes.
Proudest professional moment? Seeing our boxed cake mix on a shelf right next to Barefoot Contessa.
Favorite music to have in the kitchen? '80s.
What's on your pizza? Pepperoni and sausage.
What's in your omelet? Cheese and ham.
What are you drinking? Diet Pepsi.
What's the best request you've gotten from a customer? Most of the flavors of gooey butter cakes I make started out as a request from a customer. I would try to make it, and if it worked out it would become one of our flavors.
Most difficult lesson you've learned in this business? It's not as easy as just making a great product.
{to be continued...}
Park Avenue Coffee 1919 Park Avenue 314-621-4020