This is part one of Robin Wheeler's Chef's Choice interview with Marilyn Scull of Ann and Allen Baking Company and Park Avenue Coffee. Part two, a Q&A, is here, and part three, a recipe from Scull, can be found here.
Marilyn Scull isn't where she thought she would be.
"Because I loved to do it, baking was something I saw as fun, but I never thought I could make a living at it. I don't know why. Because, I guess, I'm one of those people that if it's not broke, don't fix it. So I was at Domino's for twenty years. Why would I go look for another job? I've had only three jobs in my entire life. I was OK, good, I'm here and making the money I need. I was satisfied. It never really occurred to me until we got the coffee shop."
But when she got fed up with her corporate food-service job and quit, her brother Dale was sitting on an offer to purchase the coffee house. He asked her to be the manager, which led to a little bit of baking in the coffee house's basement.
Four years later that "little bit of baking" has morphed into Ann & Allen Baking Company and four baking mixes Scull developed, set to launch at the Summer Fancy Foods show later this month.
"I don't see what I do as that extraordinary, but Dale thinks it's amazing," Scull says. "When we started doing the boxed-mix thing, everyone who came in or talked to us about it has said, 'But people usually have to hire people to do that.' I'm like, really? When you go and see your product sitting on a table or shelf next to Barefoot Contessa? I'm like, oh my God, look! This is crazy! I did this!"
Scull has every reason to be surprised by her success. "I've never had any training except for my mom," she says. "We would always make cookies. When I wasn't even old enough to walk, I was crawling up the cabinet to get on the counter and help her stir. I loved cooking, but I loved baking more than cooking. Making dinner was boring."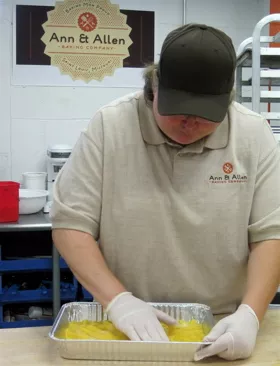 After a semester at college, she started in the food-service business -- Burger King, then Domino's for twenty years. "I loved my job until I got into upper management. I thought I wanted to be there, but when I got there it wasn't really what I wanted. It was a lot of sitting in front of Imo's down the street and counting how many cars go in in an hour. It wasn't fun. I wanted to be making the pizzas, talking to the customers. That's where my specialty was: customer service and making things.
"I just got mad at one of my bosses one day and put in my two weeks' notice. That night I pulled into my driveway, looking at my new house that I'd just bought and I'm like, oh my God, what did I just do? I've worked here for twenty years. Where am I going to get a job where I can get that kind of money? And that's when I called Dale, crying. He always says it was fate."
Fate because, two days prior, a friend had offered to sell Schotte her coffee shop. He'd planned to turn down the offer, but with his sister out of work with two decades of food-management experience, they opted to give the business a try.
"Our mom told us not to do it. Literally. Dale owns the business, and I worked for him. It was a little different at first. It was a lot of pulling teeth for both of us to get to the point where we are right now. He still makes me mad. I still make him mad. But we can work together."
In the two years that led up to their business venture, she and her brother went about making some changes in their relationship. "I lived in Florissant. He lived in U. City. We wouldn't see each other except birthdays, Christmas and holidays," Scull says. "We didn't really know each other as adults.
"We decided we were going to do 'date nights.' I love musicals. He loves musicals. We decided that one year he'd pay for two season tickets to the Broadway musicals at the Fox, the next year I'd pay for it. We started seeing each other more, going out to dinner, and getting to know each other more. As an adult you can sometimes get away from it."
Both siblings make it clear that Scull is the baker, but they still work closely together. "We have such a great balance. I like things in order, same way every time, why change it if it works? And he's like, 'I want it faster, better.' He's all about pulling me out of my comfort zone, and I don't like that sometimes. When you're a baker, you have to follow the recipe. It's not like cooking. You can't add a little of this and get a different flavor."
Which is how they got into the gooey butter cake business. With Scull managing Park Avenue Coffee and making the shop's baked goods, Schotte wanted to try more. "Dale looked at me and said, 'Can you make gooey butter cakes?' Sure. I made them all the time. I made him one. It was Mom's recipe, which makes a nine-by-thirteen, and that's all I knew how to make. He said, 'That's great, but we can't sell that. It's too thick and we can't cost-effectively sell it.' So we had to make some changes."
Scull tweaked the recipe and started experimenting with flavors suggested by customers. Before long her cakes were winning local awards, and the repertoire had grown to more than 75 varieties. And now the mixes, which she developed and still packs by hand with assistance from her bakery staff.
She's still using the same trial-and-error method to develop new recipes, such as the Mississippi Mud Pie she's perfecting for a local restaurant. "I got online and took four recipes. Ew, I don't have graham crackers for the crust. Why wouldn't I just use an Oreo crust? That sounds good and we have Oreos here all the time because we have an Oreo gooey butter. Then I'm looking at it and thinking, that's a lot of whipped cream, let's cut back on that.
"We sent it to [the restaurant] and they said it had too much whipped cream still. We're still working on the process. [My staff] are amazed when I do that, but it ain't that hard! I never knew I was good at it."
What happens if the mixes are a big hit?
"We'll make a bunch of 'em. You know the rule: He sells them. I make them. I don't care what it is. If it's one or five hundred, if he sells them I'm going to get them done. If I have to work day and night for two weeks. I guess that's what being brother and sister does to a business. You have not just the boss-employee relationship. I'm always thinking, 'I don't want to disappoint him.' You don't have that with most employees."
While it might not be the place Scull thought she would be, it's the place she's content to remain. "I will be here until Dale sells the place or until I die. I'm here because of him. I wouldn't go anywhere to look for something else because first off, our mom would probably kill me, and second off, I love my brother. I'm going to stay here."
{to be continued...}
(Read more about Scull and Schotte's journey in this Gut Check post.)