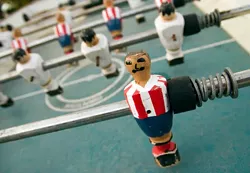 A bar staple -- foosball.
Consider this an open call to all restaurant and bar employees and managers: Send us your
World Cup
specials.
Send the details to
calendar@riverfronttimes.com
as soon as possible.
Include items like drink specials, what games you'll be showing (i.e. just USA games or just Mexico games or just Italy games or all games), if you'll be opening early to show games, what food specials or menu additions you'll have, if you're bringing in live music, etc.
Now, back to your regularly scheduled blog posts.