Dale Schotte and Marilyn Scull of Park Avenue Coffee act like siblings separated by a mere fourteen months.
That's because they are.
Scull attempts to describe how she creates new flavors of gooey butter cake. "I'm gonna use a word and," she throws a look at her brother, who hasn't said a word. "Shut up. There's a process every cake goes through."
"It's scientific," quips Schotte. His sister rolls her eyes and chuckles.
She may have a process for developing their cakes, but the rest of the family's business model has been far more spontaneous. Even though it's not the path either anticipated taking in life -- Schotte was a computer network engineer and Scull managed a Domino's Pizza franchise -- it has worked.
At the end of this month, Schotte will represent his new venture -- Ann & Allen Baking Company -- at the Summer Fancy Foods Show in New York City. He'll present Scull's three gooey butter cakes and one brownie mix for national distribution.
"I wish I could say it was some major plan I put together, but everything we've done that's been really successful hasn't been planned," says Schotte. "I think you see an opportunity and you go that direction."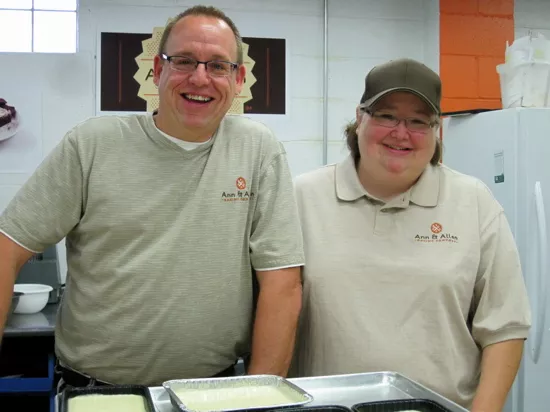 Robin Wheeler
Keepin' it gooey: Dale Schotte and Marilyn Scull of Ann & Allen Baking Company.
The serendipity began when a friend of Schotte opened Perc on the Park in 2004 and hired him to help with her computer system. "I said to her one day, just jokingly, that if she ever wanted to sell the place to let me know.
"Well, two years later she called me and asked if I remembered saying that. She asked if I wanted to buy it. I said no. At the time I had a career, fifteen years with a computer company. I was working not all that hard, with all the money and benefits. I had no real desire to change careers at that point. Out of respect I told her to give me a few days to think about it."
His intentions changed two days later when Scull called him in tears because she'd quit her management job at Domino's, the only place she'd worked as an adult. "She had no idea the coffee-shop offer was out there," Schotte recounts. "After she calmed down from being hysterical, I said, 'Do you want to run a coffee shop?' She said, 'What do you mean?' I told her the whole story and we sat down to talk about it..."
Scull interjects, "I didn't say, 'What do you mean?' I said, 'First, I don't even like coffee."
But she did like baking, which she'd learned from their mother, Evelyn Schotte, as a child. She also knew how to successfully manage a food business.
They cut a deal. Schotte would buy the coffee shop, change the name to Park Avenue Coffee and keep his tech job. Scull would run the business. They wanted to focus on sourcing local. What could be more local than gooey butter cake, using their mom's recipe?
Scull tweaked the recipe to her liking, and the cakes were a hit. So much so that customers began requesting additions they remembered from the gooey butter cakes of their youth.
Schotte explains, "This lady comes in one day and tells us that Dierberg's used to put apples in their gooey butter cake. It was a seasonal thing, and could we do it? Marilyn said yeah. And now we have 75 flavors."
As the popularity grew, the siblings moved their baking facility from the basement of the coffee shop to a building on Manchester Avenue in Dogtown. Straub's started carrying the cakes. Then Eckert's. Demand dictated that Schotte and Scull find a way to get the cakes beyond St. Louis. They'd been successfully shipping them to individual customers worldwide -- a lot of cakes go to troops stationed in the Middle East -- but wholesaling a fresh-baked product to retailers nationwide is a cumbersome, expensive venture that sometimes threatens the quality of the cake.
"I called Marilyn and I said, 'What do you think about a box mix?'" says Schotte. "She's like, 'I think that sounds like a good idea.' She had no idea what she was in for!"
Marilyn laughs. "I love my brother."
They decided to create mixes for the company's three best-selling cakes: traditional; white chocolate raspberry; double chocolate. To keep from pigeonholing themselves, they decided to throw in a brownie mix.
It wasn't quite as simple as Schotte imagined.
Scull laughs at this notion. Hard.
After giving his sister three days to tinker, Schotte checked in. "And she says, 'I'm working on it.' I'm like, 'You make this every day. What do you mean you're 'working on it?'"
"I make 50-gallon buckets of it."
"Again, I'm not a baker," Schotte explains. "I'm just thinking: you make 100, you divide it by 100. But here's the problem: It comes down to a half of an egg. How do you cut an egg in half? It took nine months from the time we started. I thought it would take nine days."
In January they released the mixes under the imprimatur of their new moniker, Ann & Allen Baking Company (their middle names), with the tagline "Baking Mom Proud."
That wasn't an easy decision to make.
Scull said, "We fought for a year, almost."
Schotte asks, "About what? The logo?"
"No, about changing the name."
Schotte laughs. "Because her name was first, she was OK with it."
"No, that's not it. You know what changed my mind?"
"What?"
"'Baking Mom Proud.' That's what changed my mind."
Schotte continues, "We spent three years building brand equity on Park Avenue Coffee. How do you just throw that out the window? It was the toughest decision I had to make. We had to separate it. And who knows? In five years, ten years, where this is going to be?"
Park Avenue Coffee will remain the same. Ann & Allen Baking Company is its own business entity.
"There's the coffee shop, which is my passion," Schotte explains. "Building relationships, meeting people, the whole social and relationship-building aspect of it. And then the baking thing. I told Marilyn from day one that I do not want a bakery. I'm not a baker. But if your passion is calling you to do this bakery, then I want to do it. A few days later she came back to me and said let's do it.
"My new passion is the brand. It's not the baking. I want to make that very clear to everyone," he laughs.
Debuting in January, the mixes are available at 30 outlets, mostly in the St. Louis area, along with some gift shops in the Midwest. To make the next step, the company joined the National Association for the Specialty Food Trade, which hosts the two Fancy Foods Shows each year and works to promote small companies that offer niche food products.
"We're in an area called 'New Brands on the Shelf,' so it's all new companies," Schotte says of the upcoming show. "I think we'll get more of the smaller-type markets like Straub's, because they're looking for new, small, innovative people who are doing something different. In the main aisles, you're going to get more buyers like Super Target who are going to want you to make private-label stuff.
"There's two things that scare me about the show, he continues. "That it's going to be a complete flop, or it's going to be a complete success."
Scull and her staff still pack the boxed mixes by hand, and will continue to do so until demand dictates otherwise.
Schotte thinks that will happen soon.
"We were at Straub's the other day doing a sampling event. We were there three hours, and in three hours we sold 30 boxes of cake mix. So I'm standing at the sample table, watching our product go across the scanner, and I think that was the first time I realized that this could be really big."