Gut Check's Week in Tweets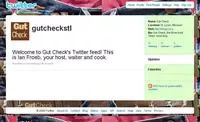 Don't you know? Gut Check has a Twitter account. You can follow us
@gutcheckstl
.

Here's some of what you missed on the Twitter feed this week:
Had dish of the year (so far) @farmhausstl last night. Kevin and crew are killing it.
RT @fakewinereviews: You just know some douchey winery is going to have a Syrah called "Smoking Indonesian Baby."
We passed 1,000 followers this week! Thanks to all of you!
Someone want to loan @MayorSlay a copy of Omnivore's Dilemma? (I can't find mine or I would.) #corn #soybeans #oil
Un-fun restaurant game: Am I eating pork ribs or beef jerky?
Support Local Journalism.
Join the Riverfront Times Press Club

Local journalism is information. Information is power. And we believe everyone deserves access to accurate independent coverage of their community and state. Our readers helped us continue this coverage in 2020, and we are so grateful for the support.

Help us keep this coverage going in 2021. Whether it's a one-time acknowledgement of this article or an ongoing membership pledge, your support goes to local-based reporting from our small but mighty team.

Join the Riverfront Times Club for as little as $5 a month.
Euclid Media Group, LLC
Read Our Sister Publications